TOKYO - About 50 times a day, Noriko Suzuki, a 22-year-old office worker here, shakes her smartphone to activate a service to send messages to friends and family members, including reports on her summer vacation, plans for an evening out and pictures of her lunch.
Like millions of other Line users, Ms. Suzuki often adds a digital "sticker," a cartoon image that could be anything from an exuberant teddy bear to a grimacing rabbit. It communicates feelings hard to convey in a text message. "If I'm angry, happy or crying, there's always a sticker," she said.
Line, a two-year-old messaging application, already has 230 million registered users - a point that Facebook did not reach until it was five years old.
And it has not even penetrated the United States, where most people have never heard of its parent company, NHN Corporation, of South Korea.
But hundreds of millions of smartphone users in Asia and patches of Europe and Latin America are spurning Facebook or Twitter, preferring instead to use Line to tell their friends about a new job, boyfriend or breakfast cereal. Now Line, not content with being the latest "big in Japan" craze, wants to transform itself into something bigger - the first global Internet company from Asia.
"We would like to turn Line into a common language for the world," said Akira Morikawa, chief executive of Line. "Our plan is to become the number-one online service."
Unlike Facebook, Twitter, Zynga and even Google Plus, Line was created for smartphones, which already account for most of the growth in Internet users. So the company does not have to design software that can leap from desktop computers to mobile devices.
Mark Zuckerberg, the chief executive of Facebook, need only ask his sister Randi about it. She wrote in a blog post after visiting Tokyo this year that "all the cool kids are using Line."
Some of Line's stickers feature its own characters, including a bear named Brown and a rabbit named Cony, who engage in activities as varied as hugs and flatulence. Others show well-known cartoon figures like Hello Kitty or Marvel Comics heroes.
Line says its users send more than one billion stickers per day. Facebook has taken notice; recently it added a sticker function to its messaging application.
"If any app can make a giant like Facebook rethink their strategy, then that is the surest sign of the potential power of these services," said Neha Dharia, an analyst at Ovum, a telecommunications research firm. Ovum estimates that messaging apps will cost telecommunications companies more than $32 billion in lost revenue worldwide this year.
The stickers may seem silly, but they were the first step in Line's plan to expand beyond cheap communications and turn itself into a broader media and entertainment platform. Many other companies' mobile applications, messaging and beyond, have yet to generate any revenue in the United States. Line gives some stickers away; others cost 170 yen (about $1.70) for a pack of 40. Sticker sales alone make about $10 million a month in revenue, Line says.
But games are Line's biggest moneymaker, accounting for about $25 million a month in sales, or slightly more than half the company's revenue. Line lets users download its games free, making money through in-app purchases, which provide players with special powers.
Line executives say they hope to capitalize on growing concerns about privacy. Line does not ask users for full names; a pseudonym suffices. Communications take place in private.
And unlike Facebook and Google, Line has no plans to tailor advertising. It has restricted ads to opt-in campaigns by companies like SoftBank, a Japanese mobile network, and McDonald's, which have used Line to offer coupons and promotions.
Mr. Morikawa said: "We don't want services that make users feel uncomfortable."
The New York Times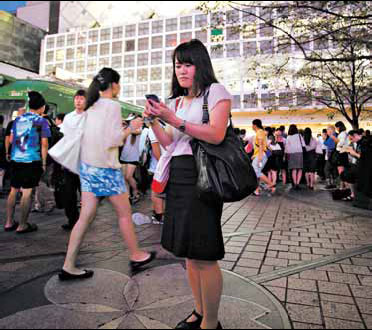 Noriko Suzuki, an office worker in Tokyo, is one of the 230 million registered users of the messaging app Line, most of them in Asia. Ko Sasaki for The New York Times
(China Daily 10/13/2013 page11)