Montreal Journal, August 24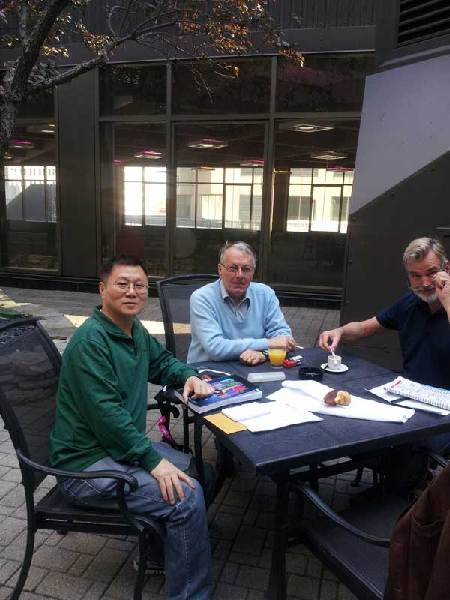 The three-person jury of the First Feature Prize holds the first informal meeting, with me, Mr. Pierre-Henri Deleau (center) and Mr. Wieland Speck (right).Photo provided by Raymond Zhou
I finally got to meet my fellow jurors today. Even though we stay in the same hotel and all screenings and other activities are within walking distance, all of us were already head over heels in catching up with the latest hot movies. By the end of today, I've watched 14 movies, even though a few are shorts.
Mr. Pierre-Henri Deleau and Mr. Wieland Speck are both veteran film festival programmers and curators. Back in 1969, in the aftermath of the cancellation of the Cannes Film Festival due to the events of May 1968, Deleau founded the Directors' Fortnight, which now runs in parallel to the Cannes festival. "It is independent," he explains to me. According to media reports, the importance of the Directors' Fortnight cannot be over-emphasized because it has highlighted many great films and filmmakers.
For me, one of the biggest functions of a film festival is to discover raw talents. If you study the history of the world's best-known festivals, they all possessed what we Chinese call "Bole's eyes" in spotting diamonds when they are rough and unpolished. Cannes awarded Francois Truffaut for "The 400 Blows," which was a first feature and now a landmark in the New Wave movement. In 1957 and 58, it bestowed kudos consecutively on Ingmar Bergman, though in different categories. By contrast, the Best Foreign Language Academy Awards were given to the same Swedish director in 1960 and 61, of course for different films. But early in 1956 and 57, Italy's Fellini had received consecutive awards in this category.
This kind of recognition has mutual benefits: It elevates a filmmaker to an enviable stature, even that of a great master, and at the same time it sets itself apart for its foresight. Film festivals tend to be particular about screening premieres partly because they want to claim the honor of being a great "Bole," the platform that launched a great film, and in case of the debut feature, the platform that launches a great filmmaker.
First-time filmmakers are almost all unknown, so it is their work that should stand out, not the name. Sure, there are always signs of tentativeness and immaturity in their movies, but they are usually made up by the force of youthful vitality. You can sense the passion in a debut feature. And as we now live in an age of non-stop imagery, the skill of manipulating visual information is surprisingly strong for most of them.
If we stumble upon a piece that is truly great, we would be so energized that we cannot help spread the word to fellow jurors and alert them of our discovery. I had "discovered" one or two such young talents before while serving at other film festivals, and I certainly hope I would have the pleasure of highlighting unknown gems this time.
Related:

Montreal Journal, August 23