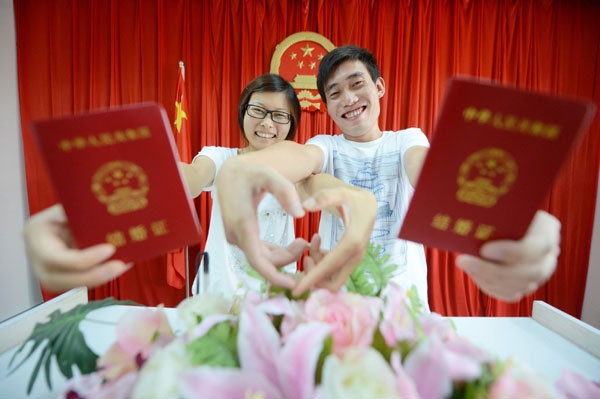 Wang Cheng and his bride Li Huan show their marriage certificates at a civil affairs bureau in Yangzhou, Jiangsu province, on Tuesday. Many people choose to get married on the seventh day of the seventh month of China's lunar calendar, known as Chinese Valentine's Day. Photo by Meng Delong / for China Daily
If you are bored with receiving flowers, chocolates and jewelry for the Qixi Festival, Chinese Valentine's Day, you may get a surprise to see your loved one springing from a large carton delivered to your doorstep holding a bunch of flowers.
The "packing myself" service, a joint initiative of China's shopping website Taobao.com and courier company Zhongtong Express, will pack customers in a 1-by-1-by-1.5-meter box to be shipped to their lover's doorstep.
A Zhongtong Express employee surnamed Xue said the service was launched in seven cities - Beijing, Shanghai, Guangzhou, Shenzhen, Hangzhou, Nanjing and Chengdu.
"Each customer is charged only 0.1 yuan (2 cents). Zhongtong Express will give customers whose loved one lives in another of the cities (mentioned above) a one-way air ticket," she said. "But the seats are limited."
Liu Bo, a Taobao sales manager in charge of the design and implementation of the service, said they sold 100 seats in three batches from Aug 7 to 9, and the seats sold out within seconds each time.
Experts say the initiative is a good idea because it coincides with the story behind the Qixi Festival.
According to Chinese legend, Niulang, a cowherd and Zhinu, a goddess, once a happy couple, were separated by the Milky Way, but could meet once a year when magpies fly together to form a bridge on the seventh day of the seventh lunar month.
Chinese Academy of Social Sciences sociologist Ge Daoshun said, "To some extent, the packing service, which provides airline tickets and helps lovers get together, is like the magpies forming a bridge to make the meeting between the cowherd and the goddess possible.
"The companies showed creativity coming up with the idea because it connects commerce, people's values and emotions, and Chinese tradition," he said.