China has a new 'tallest building'
The final steel beam was placed atop the Shanghai Tower, making the structure China's newest "tallest building" and a standing testament to the country's construction frenzy.
Designed by US architecture firm Gensler, the dragon-shaped tower is the final skyscraper in the Lujiazui financial district's high-rise trilogy — along with the Shanghai World Financial Center and Jin Mao Tower.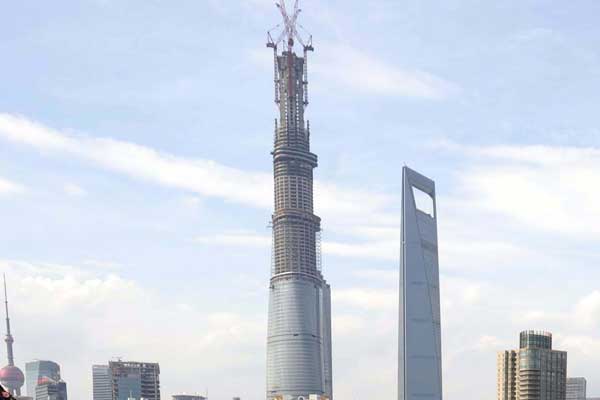 The Shanghai Tower stands over an artificial beach at the Old Docks in Shanghai on Sunday. Construction on the tower, already China's tallest building, is scheduled to be finished by 2015. [LAI XINLIN / FOR CHINA DAILY]
Although the project is not yet completed, it was topped out on Saturday at 580 meters after nearly five years of construction. It will soar to 632 meters, and is scheduled for completion by 2015.
China's highest building, and the second-highest in the world, is surpassed only by Dubai's Burj Khalifa, which stands at 828 meters.
To distinguish itself from its high-rise neighbors that solely provide space for offices, dining, shopping, hotels and entertainment, the tower is to be built into a cultural community.
The skyscraper's developers also have announced an agreement with Ma Weidu, founder and curator of the Guanfu Museum, to open a branch on the 37th floor.
"The construction is like a vertical city," Gu Jianping, general manager of the Shanghai Tower Project, was quoted as saying by news website Eastday.
Apart from Shanghai, other cities have also started planning or constructing mega- structures.
Zhongnan Group in Jiangsu province aims to build a skyscraper in Suzhou's Industrial Park. Although, the blueprint is yet to be finalized, media speculation suggests the building could stand more than 700 meters.
Another high-rise planned for Wuhan may also challenge for the title of tallest. Shanghai developer Greenland Group has set an initial target of 606 meters, but that may increase, according to media reports.
Other projects include the construction of a 518-meter building in Shenyang, capital of Liaoning province, a 468-meter tower in Chong-qing, and an 838-meter structure in Changsha, capital of Hunan province.
While developers and authorities continue to green- light super-tall skyscraper construction projects, some experts urge caution.
"The construction costs are much higher than that of average buildings, and the endless height competition will waste a lot of resources and money," warned Zhao Min, a professor at Tongji University's College of Architecture and Urban Planning.
"Not all landmarks need to be tall," he added.
The title of highest is not eternal, especially in global terms, he said, adding that during a visit to Dubai, he was shown plans for a structure of 1,000 meters.
"I don't know where the construction stands, but clearly it is impossible to hold the title forever."
While some experts stress the importance for developers to take the environment and landscape into consideration, Professor Chen Jie of Fudan University says a project's "success or failure can be judged only by its business performance".
Buildings that fail to make a profit will serve as bad examples for developers, he added.