More than just a pretty face
Fan Bingbing has such exquisite looks that she may have had a career no matter what. But she wants it all. She has proven that she can play parts that either play on her beauty or work in spite of it, writes Raymond Zhou.
Fan Bingbing knows she is beautiful. She wants to be known for more than that. When she makes an appearance outside China, she wants others to know she is Chinese.
"Whenever they see an Asian face, they assume it is Korean or Japanese, and that makes me unhappy," says the 31-year-old actress. That's why she donned a gown that clearly states her cultural identity while walking the red carpet at the French Riviera. For four consecutive years, she has chosen designs featuring distinctly Chinese motifs.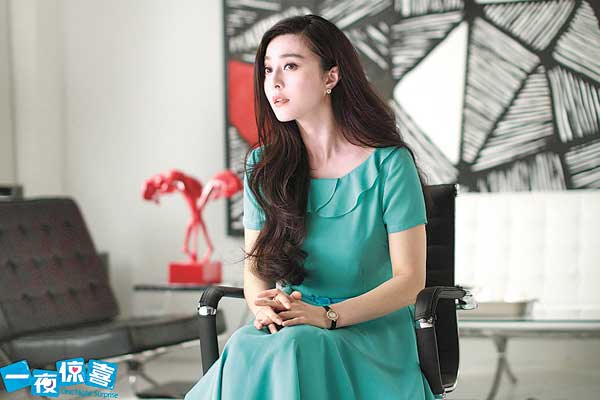 Fan Bingbing gets to show a range of expressions, moods and emotions in Eva Jin's new film One Night Surprise, which centers around the character she plays. [photos provided to China Daily]
"The biggest difference between Asian and Western aesthetics is in the temperament," she theorizes.
In China, Fan Bingbing is widely seen as one of the most gorgeous female stars. That perception carries with it certain stigma, such as the suspicion that she is used in movies chiefly as window dressing, that she has a limited acting range and she has had an easy ride on the road to stardom.
A simple look at her schedule would debunk some of those myths. Fan works extremely hard. One year she appeared in as many as nine movies, although some in supporting roles. In recent years, she has cut down to one or two film projects a year, but the movies were obviously built around her persona and she appears in almost every scene.
Fan Bingbing also runs China's largest actors studio, an operation that involves other artists and the development of projects from the ground up. Aside from movie and television deals, she has numerous commercial engagements and dabbles in singing, philanthropy and an endless stream of activities.
One thing she wants to experiment with but cannot find time for is theater. "If one day a play truly touches me, I'd go for it. Not to prove anything to others, but to have a new experience for myself," she says.
In the past year, Fan made two cameos. She was originally invited to play the female lead in Lost in Thailand, but had to bow out due to a scheduling conflict.
The role was shrunk to one scene, in which she played the object of desire for the idiot savant. She appeared at the end of the movie as a surprise to the audience. She fulfills the dream of tens of millions of young Chinese men at the bottom of the social hierarchy who dream of meeting a beautiful woman. The role has cemented her stature as the national "diva" or "goddess".
Her other cameo was in Iron Man 3, and Fan's brief appearance was featured only in the Chinese edition of the Hollywood movie. What was intended to appeal to Chinese audiences was instead viewed as something of an insult, because Fan's scene was cut from all screenings outside China. "Foreign filmmakers do not care about Chinese actors. They care about the Chinese market," Fan says. "They put Chinese faces into their work to achieve better box-office results in China. It's very passive for us actors."
However, Fan treats such roles as a learning experience — "to broaden my horizon and to understand their work processes and technology". Fan is to play Blink, an unstable mutant with the ability to teleport in the upcoming installment of X-Men, another Hollywood franchise.
Back in China, Fan is concentrating on star vehicles that seem to be tailor-made for her. In 2009, she appeared in a supporting role in Eva Jin's debut film Sophie's Revenge. "Eva came to me before she wrote her follow-up to that film and asked me if I would mind playing an unmarried pregnant woman. She assured me that the character would be kind and lovable. She has strong feminine sensibilities," Fan explains.
One Night Surprise, Eva Jin's new film centered around Fan's character, is a cross between Hollywood films Knocked Up and The Hangover, but it is a chick flick which ends not only happily, but with traditional Chinese values unchallenged. Fan gets to show a range of expressions, moods and emotions. "The role is close to that of a modern woman in China," she says. "Even though I've not been pregnant, I can totally relate to her."
But One Night Surprise, which opens on Aug 9, is just one of the type of films Fan Bingbing loves to do — "the fun movies that are embraced by the public" as she puts it. The other kind tends to deglamorize her and portray her as an ordinary woman. Lost in Beijing, Buddha Mountain and Double Xposure were all directed by Li Yu, another female filmmaker, and show Fan in a different light, nabbing her many awards in the process. "These have more depth and more impact on me," she says.
That duality may explain why Fan chooses Black Swan and Malena as the kind of dream projects she would love to jump into in the future. Natalie Portman's role in Darren Aronofsky's psychological thriller has a dark side that may seduce many serious actresses. And Monica Bullucci has such allure in Giuseppe Tornatore's romantic drama that a walk down the street is enough to conquer the cinematic world.
"It would be wonderful to have a Chinese boy steal looks at a mature woman in an old Chinese town," says Fan. Perhaps she is aware of the futility of trying to shake off the siren image, so she's ready to riff off of it.
Fan Bingbing wants to be known not only as an idol, but as someone who can act. "I hope to have the hallmark of actresses of this generation." She defines it as inheriting the good qualities of her parents' generation — her father used to be a singer and her mother a dancer — and also absorbing the new things from the younger generation.
"We are lucky to be active at a time when China's film industry is booming," she says.
But she says the older generation achieved great things, despite living in a non-commercial era and not fully realizing their potential.
"My parents gave me art in my genes. I set my eyes on the goal of becoming an actress when I was around the age of 11 or 12. I would use my mom's white scarf and play the role of Madam White Snake and have my schoolmate play my sidekick. I wanted to look beautiful and things of beauty would fascinate me even back then," she recalls.
Now, people are talking about who would be the next Fan Bingbing. Yes, beauty helps, but it takes much more than beauty to have a career like Fan's.
Contact the writer at raymondzhou@chinadaily.com.cn.