Tourism, rising awareness save folk arts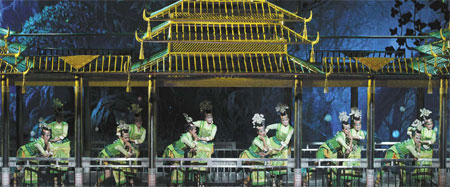 The covered bridge found in ethnic Dong areas was used as the setting for a show during the festival. Photos by Zhu Xingxin / China Daily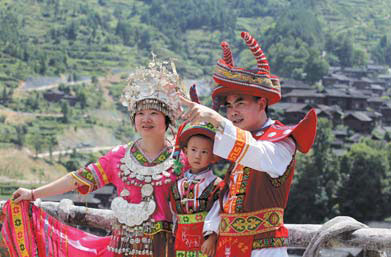 Wearing traditional local costumes, tourists visit the Qianhu Miao village in Leishan county, Qiandongnan prefecture.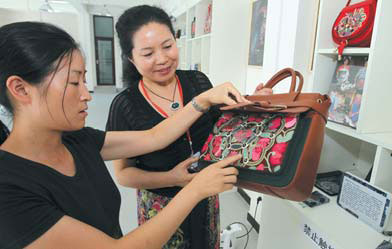 Products combining traditional skills and modern techniques have created a niche in the souvenir and even fashion markets, according to Chen Xiaoqiong (right), chairperson of Qiandongnan Women's Federation.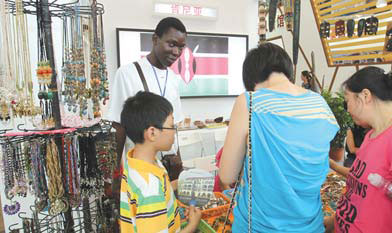 A Kenyan businessman sells crafts from his home country.
Guizhou's colorful cultures producing popular crafts
In the modern era of rapid development and social transformation, the preservation of folk arts in Guizhou and other parts of the country has been at times difficult.
But experts say booming tourism surrounding the colorful cultures in the province is likely to greatly help protect folk arts because of their increasing attention and awareness from locals and tourists.
They said a growing market in recent years for handicrafts, especially those from ethnic regions, creates better conditions for passing down the craftsmanship to younger generations, saving many art forms on the verge of extinction.
In the Qiandongnan Miao and Dong autonomous prefecture in southeast Guizhou where ethnic minorities account for 82 percent of the population, handicrafts like silver ornaments, batik and embroidery have earned wide recognition across the country and even in the world.
"These folk arts were used by local people to pass down their cultures and history," said Hou Huizhe, deputy secretary-general of China Arts and Crafts Association.
"With the development of the tourism industry, production of handicrafts as souvenirs is also an important way for locals to boost their income," she added.
In the suburbs of Kaili, the capital city of Qiandongnan prefecture, many locals rely on silver crafting to make a living. In some villages, about 80 percent of the residents are traditional silversmiths or involved in the trade.
Huang Zhongxue produces some 400 silver ornaments every year. He said the most expensive piece he makes can sell for more than 10,000 yuan.
"Thanks to the booming tourism industry, I earned more than 100,000 yuan from silver crafting last year," he said.
Huang said in the past making silver ornaments was just part-time job for some villagers in addition to farming.
"But it now brings us good fortune," he said.
But Huang added the business also faces difficulties.
"Our products are totally handmade. So family workshops like mine cannot meet the growing market demand," he explained.
The local government has also noticed the problem, so authorities are endeavoring to help by providing access to new modern techniques and technologies.
One effort was the China International Folk Artworks Fair that opened in Kaili on July 23 with experts onsite to teach local craftsmen how to use new techniques.
"Traditional craftsmanship has to be updated by modern techniques", said Liu Daoguang, a professor from Southeast University. He added that quality control must be introduced in the work process to maintain the cultural value of folk artworks.
"Talent training and brand building are also crucial for helping promote folk arts and the handicraft industry to domestic and international markets," said Hou Huizhe of China Arts and Crafts Association.
In 2012, total revenue from the industry nationwide reached 631.7 billion yuan, while the total export value surpassed $44.5 billion, according to statistics from the General Administration of Customs.