Wuhan a prime spot for international rowing hub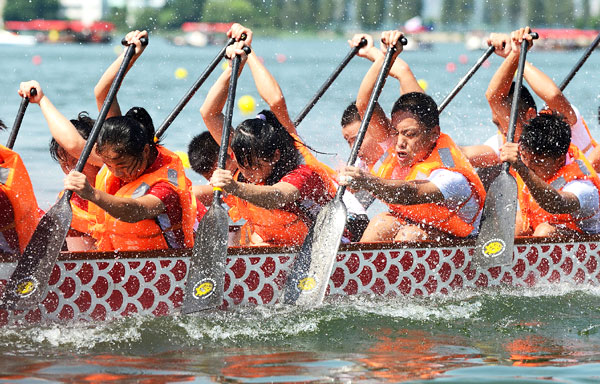 A dragon boat team from Wuhan University during a contest in Wuhan, Hubei province, on Thursday. The contest was held on the sidelines of the 2013 World Famous Universities Rowing Challenge, which ran from Monday to Thursday. Zhou Chao / for China Daily
City home to China's largest urban lake, most college students in world
Abundant waters and a big college student population make Wuhan an excellent venue for rowing races, said foreign rowers at a recent international competition in the city.
The 2013 World Famous Universities Rowing Challenge was held from July 22 to July 25 in the capital city of Hubei province with the participation of eight foreign teams and five domestic teams.
The University of Amsterdam took the championship in the men's group, with Tsinghua University as first runner-up and Cambridge University in third place.
The University of Otago in New Zealand triumphed in the women's group, and the University of Paris II (Pantheon-Sorbonne) took the second place.
It was the first time an international rowing race was held in Wuhan, which is home to the largest lake within an urban area in China. The East Lake covers an area of 33 square km and is five times bigger than the West Lake, a UNESCO World Heritage Site in Hangzhou, Zhejiang province.
The city is also home to the largest number of college students worldwide with 1.18 million students, according to data published by the city's bureau of statistics early this year.
"The city enjoys exceptional advantages for rowing," said Shen Jiali, who has been a national rowing referee for more than 10 years.
"Universities are vital in increasing the popularity of rowing as well as a place where rowing teams can easily be organized."
Shen added that Wuhan's East Lake and the large number of students make the city a prime spot to boost the sport's popularity.
Christine Geiser from Yale University has been rowing for almost 10 years and compared Wuhan to Boston in the United States. The city's Charles River makes a perfect urban area for rowing, which "draws a large crowd and brings in a lot of money for the community".
"Wuhan could become a new hub for rowing - an international rowing hub," Geiser said.
Martin Graham, a postgraduate majoring in International and Chinese Law at Xi'an Jiaotong University, has been competing in rowing races in China for four years and agreed with Geiser.
"I do think Wuhan has high potential to become an international rowing hub," he said adding that the event was "well organized" and that the city provided a "good environment" for rowing races.
There is an experienced coaching team and also several water sports bases in Wuhan, Yan Fan, the deputy director general of the city's sports bureau, said.
"As long as the universities in Wuhan are willing to start their own rowing teams, we can cooperate and offer a free training field for them," Yan said.
However, challenges, such as height restrictions and high facility costs, make it difficult for Wuhan universities to organize rowing teams.
"Without support from the government, it can be hard to make rowing popular," said Zhou Xuejun, a physical education teacher of Wuhan Sports University and a rowing referee qualified for international races.
Besides rowing races, the East Lake has also been home to a dragon boat race, a traditional Chinese water sporting event, for four years.
The number of participating teams at the event has increased from 60 to 105 since the tradition began in 2009.
And last year, an annual dragon boat race event between Wuhan University and Huazhong University of Science and Technology was also launched.
According to Chen Weihua, the deputy director of the administrative committee of East Lake, in addition to the city's efforts to develop water sports on the lake, they have also invested 30 million yuan ($4.8 million) in decorations and improvements to the sightseeing boats.
The upgrades on the lake include colorful light installations and Chinese paper-cuts, and to the sightseeing boats feature a monologue story-teller and Han embroidery, an ancient Chinese needlepoint art.