University adds personal touch
Many students consider their university admission letter one of their most important mementos because it marks the beginning of a new chapter in their lives.
As students proudly display their admission letters online, 4,570 students who will soon go to Shaanxi Normal University are the envy of many — each of their letters is an artwork of brush and ink by the school's retired professors.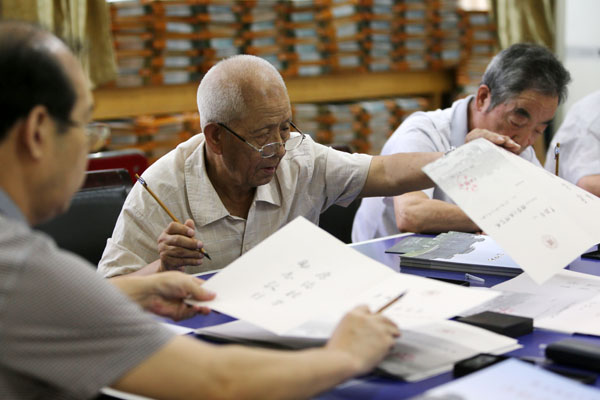 Retired professors write admission letters with ink and brushes at Shaanxi Normal University, instead of printing, to share the college's cultural atmosphere with freshmen in the fall semester. Hou Zhi / for China Daily
Starting on July 10, eight retired professors from Shaanxi Normal University — their average age was 70 and the oldest was 80 — returned to college for six hours a day to handwrite the admission letters. They have already completed more than 3,000 letters.
"Hopefully, the students can feel our affection and expectations for them when they think of how we wrote the letters stroke by stroke," said Jia Wenxing, one of the retired professors who is head of the university's calligraphy association.
"We want them to feel the school's cultural atmosphere, and that a university is more than a place of academic research, but also of cultural inheritance."
Since the story went online on Sina Weibo last week, it attracted more than 3 million views within two days. Many call the letters "worthy of collecting" because they maintain a tradition that might have died out in a time when efficiency is usually considered first.
Jia said that for a time the school also put efficiency ahead of tradition.
He recalled how proud he felt in 1977 and 1978 when he helped write admission letters for students of the mathematics department, where he was then teaching.
"Even today some students still share with me their excitement upon receiving the special letters," Jia said.
The university, like most others, then replaced its handwritten letters with printed ones. It was only in 2007 that it resumed the more personal process, inviting students with good handwriting to write the admission letters.
This year is the first time senior teachers have become involved. School officials believe calligraphy is a pure reflection of the writers' disposition, and the elder professor's writing style gives the letters more solemnity.
"It's like a simple yet solemn ritual, showing our respect and gratitude to the students for choosing our university," said Lyu Jiuru, a former university vice-principal, who also wrote letters this year.
Lyu said it's also an indication of the university's emphasis on handwriting education. Since a lot of the university's students will become teachers, Lyu said, the college regularly evaluates students' handwriting at the beginning of the semester to decide who needs intensive training.
"It's necessary for teachers to have good handwriting, which in the students' eyes has always been a sign of being learned," Lyu said.
Once the university's admission letters gained public attention, other universities started sharing their unique designs.
Shanghai Jiao Tong University adds a high-tech component to its admission letters to shorten registration time. When students register for school in September, they simply need to scan the barcode on their admission letters. All their information will be immediately transferred to the university's information database.
The calligraphy on Shaanxi Normal University's admission letters has stolen the limelight, however, and many are calling for the tradition to continue.
The university's response is positive.
"This tradition of handwritten admission letters will be passed on for sure," Jia said. "In the future, we'll not just involve retired professors, but on-the-job teachers and officials will all be asked to join in."