Adopted family's love fueled soldier's spirit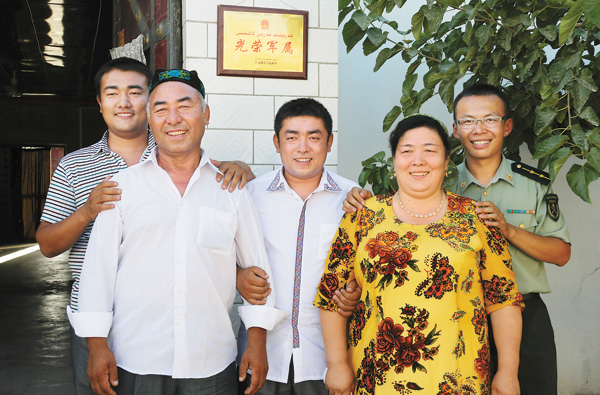 Tao Hui (right) with his Uygur parents and brothers in front of their home in Toksun county in the Xinjiang Uygur autonomous region. Li Xiang / Xinhua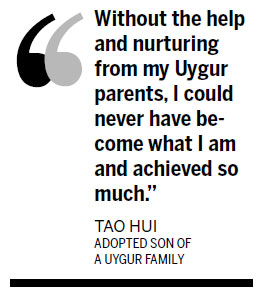 Zanathan Amet, a Uygur woman living in Toksun county in the Xinjiang Uygur autonomous region, feels proud being the mother of a serviceman in the People's Liberation Army, like many mothers in the country.
Her 24-year-old adopted son, Tao Hui, whom she has taken care of for 22 years ago, is now a lieutenant of the PLA ground force.
Their story started in Toksun in a sunny day in September 1991, when Tao and his father appeared in front of the Uygur family.
"I was tidying up my mutton stall and then his father approached and asked me whether I had a vacant room that could be rented, and I said 'yes'," Xaliq Memet, Zanathan Amet's husband, recalls. "The man looked dark and skinny, and Tao Hui, who was 2 then, impressed me with his big head and lean shape."
Then the father, Tao Jinlai, who hailed from Quanjiao county in Anhui province, decided to stay.

Soon after the two moved in, Xaliq Memet knew that Tao came to Xinjiang as a migrant worker in 1982 and moved to Toksun, a Uygur-populated county, one year later, doing manual jobs such as making tricycle deliveries and painting houses.
Tao Hui was born in 1989 in the county. Unfortunately, a year and a half later he lost his mother, who died of illness.
Gradually, the two families came closer and closer. After realizing Tao Hui was often left home alone and had to endure hunger, the Uygur couple lent their hands by sharing their food with the Han boy and taking care of him.
As Tao Hui became part of the Uygur family, he gained a good command of the Uygur language and also taught Mandarin to his two Uygur brothers and a younger sister.
Though life had become better, Tao Jinlai's health deteriorated due to his heavy workload and he made a decision to entrust the Uygur family with his son.
"In October 2004, Tao Jinlai knew his final day was about to come so he asked me whether I could take care of Tao Hui if he dies," Xaliq Memet recalls. "I told him I definitely would look after the boy."