The education of Andrea Pasinetti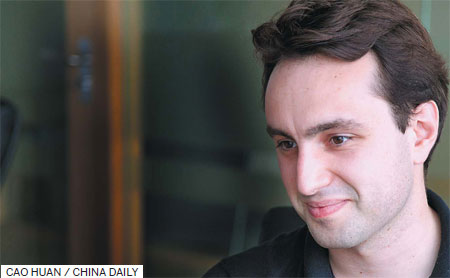 He brings teachers to rural schools in China, giving the children a chance of a decent education. Funnily enough, he's a college dropout himself, but he tells Liu Xiangrui that has not stopped him from dreaming big.
Andrea Pasinetti does not make big money. In fact, he has not received a salary for the last five years and often pays the traveling expenses for the job from his own pocket. Pasinetti brushes away the curiosity and the questioning looks with confidence.
"I'm not a man of no desires. The fact is that I have gained a lot in terms of personal growth in the past five years," says the 27-year-old Italian-American, who believes he has found "the big thing" he wants to do in life.
Unlike famous college dropouts Bill Gates and Mark Zuckerberg, Pasinetti is not interested in building a fortune with his own business. He has a very different story to tell, starting from when he left Princeton University without completing his degree.
The next thing he did was to start working in the rural regions of China, carefully shunning the bright city lights.
Since 2008 he has endeavored to change the future of rural children with his Teach For China program, styled after the Teach For America program, which sends groups of graduates from top universities to classrooms in underprivileged areas.
At the organization's office in Beijing, Pasinetti, in jeans and a T-shirt, is caught up in multiple meetings - all part of his work. After six years in China, he now speaks fluent Chinese.
Teach For China now has 210 teachers helping more than 30,000 students. The number of teachers will increase to 340 in September, and TFC's ambitious goal is to send 1,000 teachers out to rural schools by 2015.
The organization has faced many challenges from the start. Pasinetti says its founding was quite accidental.
In 2005, a language program brought Pasinetti to China for the first time. He was then studying public and international affairs at Princeton. He returned to China in 2007.
"At the time I knew nothing about China's education or its rural environment. All I knew were about the big cities I visited," he says.
While he was doing research on rural policies for his thesis in 2007, Pasinetti got the chance to visit some rural communities. It was his first exposure and he still remembers how he was inspired by the words of a rural headmaster in Lincang prefecture, Yunnan province.