Science students calculate formulas for love
Writing rosy poetry should be second nature to liberal arts students, but now Chinese science and engineering students have their own literature.
Related:First-tier cities barely livable, report says
On May 20, a date that in Chinese sounds similar to "I love you", the 10 most romantic love poems written by science majors nationwide were chosen from more than 600 candidates.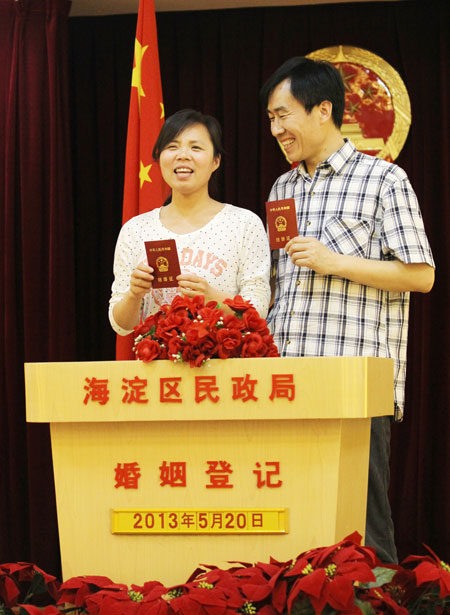 Newlyweds pose with their marriage license at the marriage registration office of civil affairs bureau of Haidian district in Beijing on Monday. Zhu Xingxin / China Daily
The competition was co-organized by Shanghai's Fudan University and Guokr, a Chinese science website. According to the rules, the poem needed to be written in three lines with science language and symbols.
"It's commonly perceived that scientists are nerds," said Liu Daisong, a university teacher. "In reality, they have their own ways to express love and warmth."
Initiated last year by Fudan's School of Mathematical Sciences, the contest was named after Johann Peter Gustav Lejeune Dirichlet, a German mathematician who made great contributions to number theory, analysis and mechanics.
"At first, the competition was just for enjoyment on a small scale. But it was unexpectedly welcomed by many students outside the math school," said Qian Sheng, who is in charge of organizing the competition.
This year, the competition was expanded to include all science majors, aiming to give more participants an opportunity to show their romantic side by using the jargon of their respective fields.
When this year's competition was announced online this month, it attracted a lot of attention, with more than 600 entries. More than 5,000 netizens voted.
"From the number of participants, you can see the enthusiasm of science students," Liu said.
Gu Junqing, a student of computer science at Tongji University in Shanghai, said: "People often believe that writing love poems is just for humanities students. But I don't think so.
"Science majors can equally create elegant verse using with their own symbols," he said. "This competition is awesome. It proves that science students can be romantic."
However, it is not easy for people to have same thinking patterns as scientists. Most poems are written in math functions, English and Greek alphabets, patterns and DOS input. Many netizens said the poems of signs and symbols are confusing.
"I can't understand what the signs mean, though I can guess the basic idea," student Wang Jia said. "It's still interesting to see these unique love poems."
Qian said organizers will also explain some love poems online. "Some poems are really difficult for people without any background knowledge," he conceded.
Shen Yaojun, a telecommunications engineering major, said a love letter gives a man a better shot at winning a woman's heart, but "you should make sure she can understand it".
"This is sad. It tells how hard it can be to find a date for a male science major," he added. "When I was a freshman, I wrote one but failed to find a girl to read it. "
Related:
The middle-class trap