Envoy eases Jakarta landing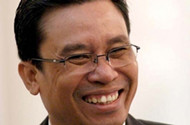 Indonesian Ambassador to China Imron Cotan was in Shanghai last weekend to launch the "immigration onboard" service of airline Garuda Indonesia for its Shanghai-Jakarta route. The onboard visa service began on May 4, with a kickoff ceremony in Pudong International Airport, Shanghai.
Cotan noted that cooperation between Indonesia and China has grown significantly over the last three years. Trade volume between the two countries has doubled to $66.6 billion last year, and Chinese investment in Indonesia has tripled to $2.2 billion. The number of Chinese visitors to Indonesia climbed to 850,000 last year, compared to 770,000 people in 2010.
The EU delegation and embassies of EU states are hosting their third annual "Open Days for Young People". In the coming week, the German, Spanish and Irish embassies will host events, with the series ending around mid-June. A list of all the activities is available on the EU delegation's website, eu-in-china.com, and on Sina Weibo at weibo.com/euinchina. All events require advance registration or an online invitation.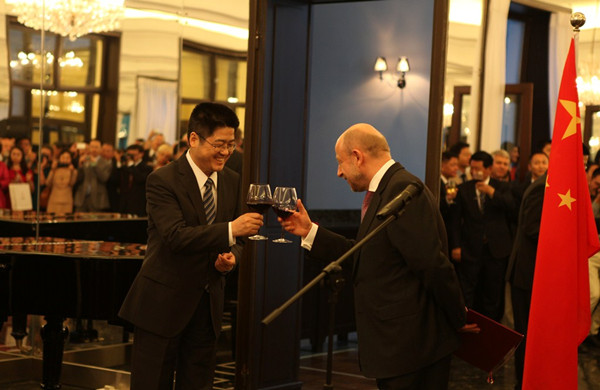 Chinese Assistant Foreign Minister Le Yucheng and Polish Ambassador Tadeusz Chomicki exchange toasts at the embassy's national day party. Provided to China Daily
Polish Ambassador Tadeusz Chomicki and his wife, Susan Kim-Chomicki, hosted a garden party reception to celebrate the country's Constitution Day last week. Two lucky-draw winners went home with round-trip air tickets to visit Poland.
Lilianne Ploumen, the Dutch minister for foreign trade and development cooperation, joined Lin Keqin, the vice-mayor of Beijing, to celebrate the city of Amsterdam's designation as "Guest City" for the 2013 edition of the Beijing Design Week, last week.
More than 200 representatives of Dutch and Chinese companies convened at a "trade dinner" to share highlights of Dutch design, including the world-renowned Vanmoof bicycle. Ploumen wore a specially designed outfit by Chinese-Dutch designer Hu Sheguang, currently both chief designer of the China Fashion Institute as well as of his own fashion house specializing in haute couture. Hu merges the best of Dutch and Chinese design sensibilities, showing how the two cultures can connect on a creative level.
In a pitch for making trade and economic growth more sustainable and socially responsible, Ploumen cited the Dutch Vanmoof bicycle as an example of how an essential item in both Chinese and Dutch daily life can be redesigned to deliver simple, practical transport for healthier, more sustainable cities and also benefit the mind and body.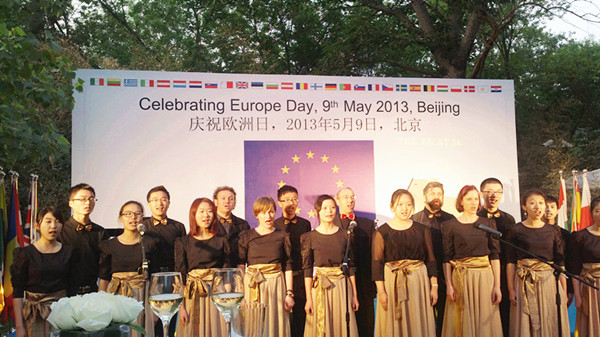 The BFSU School of European Languages and Culture Choir sings the EU anthem in Latin, one of several cultural presentations for Europe Day. Provided to China Daily
European ambassador Markus Ederer welcomed more than 2,000 guests at a reception celebrating Europe Day on Thursday, with a cultural program that included modern European pop music; the Beijing Foreign Studies University's School of European Languages and Culture Choir, which sang the EU anthem in Latin; and a classical tour of European composers by Austrian violinist Lidia Baich, who performed with a 250-year-old violin; and pianist Matthias Fletzberger. The embassy garden was open for a People-to-People exhibition with more than 60 pairs of images by renowned photographer Steve Zhao.
China's new ambassador to the US, Cui Tiankai, attended the opening session of the 22nd Annual Conference of the Committee of 100 late last month and spoke on China-US relations. Established in 1990 and based in New York, the Committee of 100 brings together influential Chinese-Americans in the United States. Its mission is to promote exchanges between the countries in political, economic and other areas.