Will the idiot box get smarter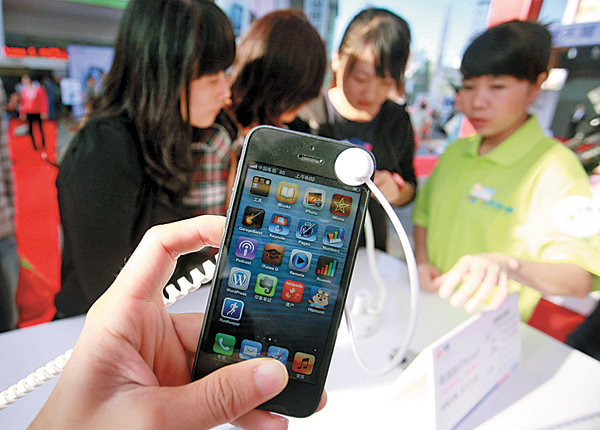 Young people visit a mobile phone store in Haikou, capital of Hainan province, in this file photo dated last Dec 14. Provided to China Daily
TV sets are fast losing their charm with the widespread use of laptops, iPads and smartphones, write Yang Wanli and He Na
Song-and-dance duets are 78-year-old Ren Shuzhen's favorite, and like many other people in Northeast China, the resident of Jilin province spends almost the entire evening watching such duets.

The 55-inch smart TV set that her daughter gave her as a housewarming gift last year has advanced audio-visual functions. The 8,000-yuan ($1,296) TV has a lot more functions, though. "It can be connected to the Internet and I can even watch movies in 3D," says Ren. "But it's too complicated and I don't use any of those functions."
Of the three pairs of glasses for watching 3D programs, only one has been used, and that was by Ren's 2-year-old great grandson who wore them outdoors as sunglasses. Besides, Ren's 52-year-old son is not interested in TV dramas and her granddaughter prefers watching videos on iPad. That has left Ren alone with the TV.
Ren is one among millions of Chinese experiencing the change in TV viewership. A report by iResearch, issued early this year shows that the number of families in Beijing watching programs on TV dropped from 70 percent in 2009 to 30 percent in 2012. In Shanghai, the figure was just 27 percent in March.
The popularity of computers, tablets and smartphones poses a great challenge to TV. Ministry of Industry and Information Technology figures show that smartphone ownership in China was 130 million in 2011, and iResearch estimates show it will increase to 240 million in the next two years.
"Watching TV is really old-fashioned activity for my generation. There are very few programs I am interested in," says 16-year-old Yang Yin, who usually watches American TV dramas and videos on her iPad or computer. Even her classmates seldom watch TV, she says. Most of her friends are fans of American, British or South Korean dramas. "We don't like dubbed foreign dramas shown on TV channels because they lose their original tastes besides, the long and boring TV advertisements are unbearable."
Computers give Yang a private entertainment experience. She can enjoy watching her favorite program, movie or video show on the Internet anytime, anywhere. "Even if the TV is connected to the Internet, it would mean nothing to me," she says.
According to her, she can hardly have any privacy while watching TV because TV sets are usually kept in the living room. "On the computer, I can watch a program without having my parents seated beside me. It's about freedom," she says.
Yan Zhiyong, 34 and father of a 6-year-old boy, says the family rarely watches TV, because he and his wife want their son to develop the habit of reading and playing outdoors instead of becoming a couch potato. "An iPad or smartphone can meet the need of watching videos for me," he says.
The TV set Yan has at home was bought five years ago, and the couple watched ordinary TV programs or movies on it. Yan says he will not buy a smart TV, at least not in the next five years. "A laptop with perfect functions costs 5,000 yuan on average. But a smart TV comes for 8,000 yuan or more," he says. "And a laptop even provides more functions. So what do I need a smart TV for?"
"I think the biggest problem lies in the outdated fixed model," says Song Ziwen, a well-known TV program and film critic, and director of Beijing Caose Qingqing Culture Communication Co. "If you pay attention you will see that almost similar programs are telecast on different channels at the same time. All the popular variety shows are telecast on Friday or Saturday nights. And after the 7 pm CCTV evening news, all the channels telecast TV series and even the advertisement breaks occur at the same time.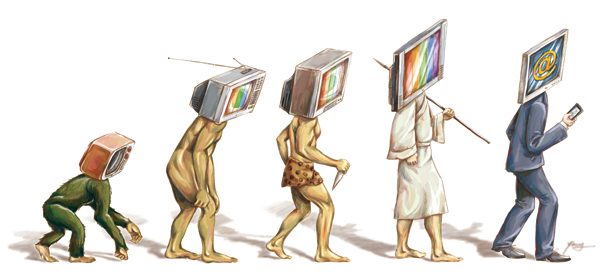 Related: