Shaolin monk doctors assist earthquake victims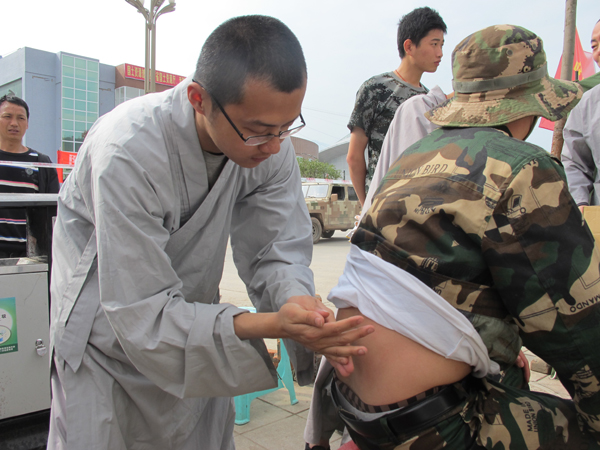 Shi Yanyun, a rescue team member from Shaolin Temple, treats a volunteer who hurt his back during earthquake rescue operations in Lushan, Sichuan province, on Thursday. An Baijie / China Daily
Rao Zexiang, who hurt her left foot while fleeing the April 20 earthquake, went on Thursday to see the doctors - monks from a rescue team from Shaolin Temple.
Rao, 52, a resident of Lushan county, Sichuan province, rushed out of her house with her 1-year-old grandson in her arms when the quake hit. The disaster has left at least 196 people dead.
She was in such a hurry that her left foot was injured. She also hurt her back on the handrail of the staircase.
"Seeing the bottles on the shelf of my apartment fall down, I knew that it was an earthquake, and I rushed out from the third floor immediately with my grandson," she said.
Rao said that after she felt pain on Wednesday in her foot and back, she sought help from the rescue team sent to the county from Shaolin Temple, China's most famous Buddhist monastery in Henan province.
Shi Weiyin, a monk from the medical rescue team, applied massage therapy on Rao's foot for about a minute and then put a plaster on her foot. The plaster was made by the Shaolin Temple monks using their traditional formula.
The Shaolin medical team, comprising 13 monk doctors, arrived in Lushan county on Tuesday morning, after 32 hours' travel by bus from Dengfeng in Central China's Henan province.
Most of the monks graduated from medical universities, and some have been doctors for decades, Shi said, adding that he graduated from Beijing University of Chinese Medicine in 2000.
Related:
Quake's impact spills over into tea production
Kraft offers donation to quake victims