UN celebrates Chinese Language Day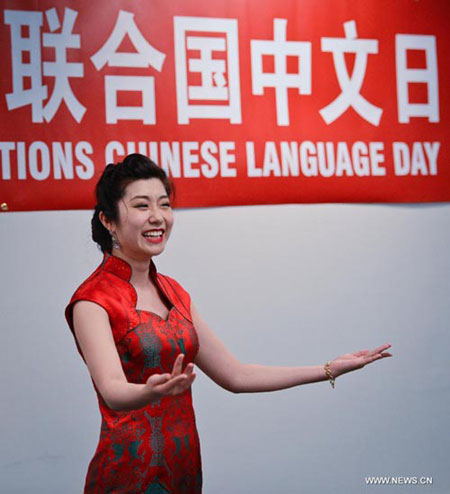 Singer Pang Yixuan sings the Dragon Boat Song during an event to celebrate the United Nations Chinese Language Day, at UN Plaza in New York, on April 19, 2013.[Photo/Xinhua]
The United Nations marked the fourth Chinese Language Day here Friday with a series of special activities in an effort to discover the beauty of Chinese language and highlight the historical importance of Chinese culture.
The celebration is held around the same time in April each year on Guyu, or literally meaning "grain rain", which is the 6th of the 24 solar terms created by ancient Chinese to carry out agricultural activities, to pay tribute to Cangjie -- an ancient Chinese mythical figure who is credited with having invented Chinese characters about 5,000 years ago.
Dozens of UN staff members and diplomats from different countries participated in a host of events organized.
Wang Ban, a renowned litterateur and translator, gave a lecture titled on the sources of Chinese literature to introduce to the audience the Book of Songs and the Songs of Chu, two anthologies of classical Chinese poetry dating back to 21st century B.C. and 221 B.C..
As part of the celebration, an exhibition of Chinese paintings and calligraphy was also held here. Zhang Wanxin, a renowned calligrapher and seal engraver, made a presentation on how to appreciate and learn Chinese Calligraphy.
Other events included performances of traditional Chinese songs and musical instruments playing.
Christopher Livaccari, director of education and language initiatives at the New York-based Asia Society, talked about his experience of living in China and learning the Chinese language.
Chinese language is one of the United Nations' six official languages. The other five working languages of the UN are French, Spanish, Russian, English and Arabic. The Chinese language is now spoken by more than a billion people, which means one in seven people communicate with Chinese in the world.
The UN Department of Public Information (DPI) introduced the language days starting 2010 to celebrate each official language and encourage cultural diversity and mutual understanding.