Returning to life on the land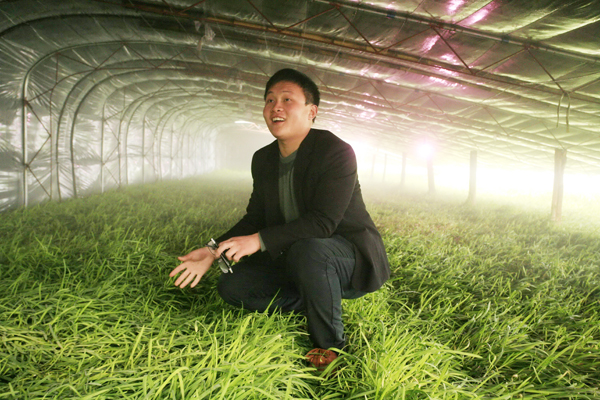 Chai Huilong surprised his parents and fellow villagers when he chose to return to his hometown and farm the Chinese leek after he graduated from university. Ju Chuanjiang / China Daily
When university graduate Chai Huilong turned down a well-paid job to return to the family farm, his parents were worried. But the young entrepreneur has proved farming can provide a prosperous future. Zhao Ruixue reports in Jinan.
University graduate Chai Huilong, 24, made a small fortune from his farm last year, but his mother refuses to forgive him for returning to the small village he grew up in.
"I would still prefer him to stay in the city because it is decent," says Cui Changyun, Chai's 50-year-old mother.
In 2012, Chai declined an offer of a well-paid job in a city and instead decided to return to his hometown, Chaijia village, to farm the Chinese leek. But far from being delighted to have their son at home, Chai's decision was strongly opposed by his parents.
"My mother cried for a week. She was afraid of being laughed at by our fellow villagers. To them, my returning means I have to live a very hard life as they do, but I have proved them wrong," Chai says.
Chaijia village is about 60 km from Jinan, capital of Shandong province. Visitors to the village during the spring farming season may notice a defining characteristic - an absence of young men. "Men aged between 20 and 40 will not stay at home. They prefer to work in the city even though some of them can only earn about 1,000 yuan ($161) a month," Chai says.
"It's not an impulsive decision," Chai says of his return.
His four years of study in finance and international trade at Beijing Science and Technology University convinced Chai that his hometown has the potential to become a wealthy area.
Chaijia is a village with over 30 years' experience of planting the Chinese leek. Of the 400 families in the village, 355 are responsible for planting 100 hectares of Chinese leek. In 2000, the village had its produce registered as Luxiang Pollution Free Leek at China's Agriculture Ministry, the first registered brand of Chinese leek. However the branding has done little to improve the farmers' lives.