Turkish Culture Year events to start in China in March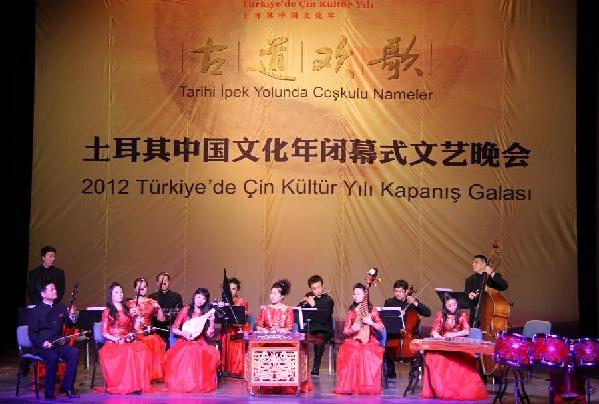 Chinese artists perform in a show marking the closing of the Year of Chinese Culture in Turkey 2012 in the national opera house in Ankara, Turkey, Dec. 4, 2012. (Xinhua/Li Ming)

The events of the 2013 Turkish Culture Year will begin in China in March, Turkish Culture and Tourism Minister Omer Celik said in Beijing Tuesday.
Related stories:Turkey gets a glimpse of China's civilization
"In recent years, the Turkish government is very concerned about the development of cultural relations between Turkey and China, and the Chinese government is attaching great importance to the further development of cultural exchange with Turkey with the creation of many promising opportunities," Celik said at a press conference in Turkey's capital Ankara.
For his part, Chinese Ambassador to Turkey Gong Xiaosheng said that "Through in-depth exchanges of the artists and the peoples of China and Turkey, we believe that the Chinese and Turkish cultural activities and cooperation will be promoted in various fields ..."
Opening ceremonies for the event will be held in China's Beijing and Shanghai on March 21 and 25, respectively.
In 2010, China and Turkey issued a joint statement on the establishment and development of their strategic partnership, and drew up the plan to organize the Chinese Culture Year in Turkey in 2012 and the Turkish Culture Year in China this year.