Pakistan embassy celebrates Spring Festival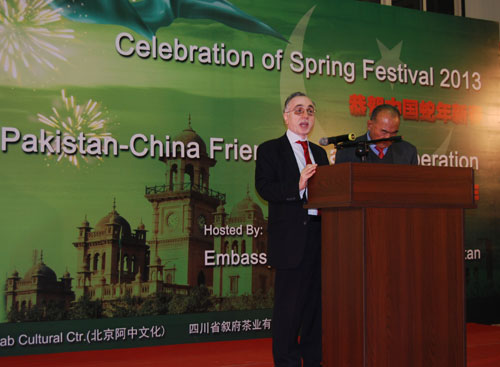 Pakistan's Ambassador to China Masood Khalid addresses the cultural evening to celebrate the Spring Festival and Pakistan Day in Beijing at the Pakistan Embassy on Feb 28, 2013. [Photo for chinadaily.com.cn]
The Pakistan embassy hosted a cultural evening in Beijing on Feb 28 to celebrate the Lunar New Year and Pakistan Day. A number of artists and youths from China and Pakistan presented cultural performances during the event.
Pakistan's Ambassador to China Masood Khalid said the occasion was to mark the Chinese Spring Festival and the New Year celebrations that will run up to Pakistan Day on March 23.
"Wishing a very happy New Year to the government and Chinese people," Ambassador Khalid said. "As we start the New Year, both China and Pakistan can reflect on an outstanding last year, which saw expanded two-way trade, strengthened cultural ties and enhanced people to people contact."
Lauding the performances by both Chinese and Pakistani performers, he said, "The art and culture of Pakistan and China have lots of similarities, which is the true reflection of the history of both countries."
"Culture has no boundary, no border and no restriction. We believe the friendship of both countries will be strengthened by such events of cultural performances," he noted.
Ambassador Khalid pointed out that Pakistani people and government equally share this joyful occasion with their Chinese friends. In this connection, he referred to President Asif Ali Zardari's attending a Chinese New Year reception in Islamabad last week.
He said that relations between the two countries have taken off in contemporary times, but their roots go deep into history.
Luo Zhaohui, head of the Asian Affairs Department of the Chinese Foreign Ministry and former Chinese Ambassador to Pakistan attended the occasion. Luo expressed his profound appreciation to the ambassador for holding the reception.