Mediating beyond the book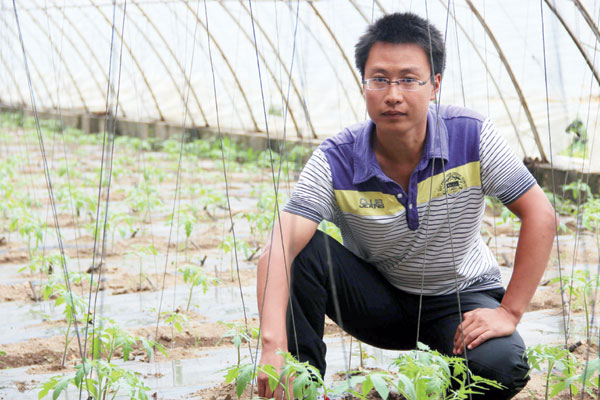 Besides his mediation work, Qi Xiaomin hopes to build a stronger community through an organic greenhouse project. Mei Jia / China Daily
A sociology student gets an immersion course in conflict resolution - and helps to unite a troubled community, Mei Jia reports from Baishan, Jilin province.
The peace of Diaoshuihu village, Baishan city, Jilin province, was shattered in 2009, as a Chinese-Canadian joint-venture company began mining the village's precious underground resource: gold.
Qi Xiaomin, born in 1985 and a post -graduate student in sociology of Jilin University, arrived at the village when the conflict between the local community and the mining company was at its peak.
The villagers blocked the only road in and out of the mining site. The company stopped the progress for four months, faced with huge financial losses every day.
Qi thought he was to participate in a fieldwork project, which is what he was told when he departed from his campus in the provincial capital Changchun.
But he soon found out he'd been sent to mediate among the villagers, the local government and the company to rebuild harmony in the community. It was a crisis role most students never have the chance to assume.
"I'm not officially employed by anyone here, and no one covers my social security. But I'd like to create a profession out of what I'm doing, and be in places where I'm needed," Qi says with a determined look.
For a postgraduate like him, the decision is unusual. He works as "a nobody" in a village of 400 families, while most of his peers rush for posts as civil servants or for a "stabilized" and promising future.
"I gave up chances for well-paid and stable jobs and have stayed there for three years. I'm thinking of staying longer," Qi says.
In 2009, Jilin BMZ Mining Ltd under Eldorado Gold, one of the world's leading gold mining companies, started operating in the village.
Local villager Gao Weixin, 61, says he saw reddish water being emitted from the mine site into the river where the villagers washed clothes. Locals were also bothered by the noise of huge construction trucks driving in and out at night.
"We were deeply worried about the possible harm, and the compensation they promised did not fully materialize, so we were determined to stop them," Gao says.