Standing debate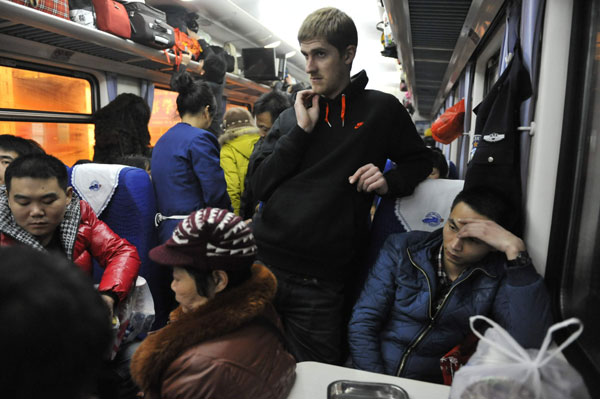 A foreign passenger finds himself in a packed train before last year's Spring Festival. Deng Xiaowei / China Photo Press
The pricing for train tickets with no seats is fundamentally an economic issue, but in China it inexorably turns into an argument about social equality.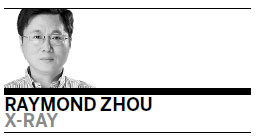 The loudest sound emerging from the ruckus that is the biggest human migration in the world is a call to reduce the cost for standing.
Chunyun, aka China's annual year-end rush to celebrate the Spring Festival, will last 40 days and register a total of 3.4 billion trips this year. (The number has been growing steadily year by year.) Railroads will account for two-thirds of the trips, which means resources will be stretched almost to breaking point.
What prevents it from breaking - or rather, what makes it possible to move so many people home for the Chinese New Year and then back to where they work - is standing room.
A carriage designed to take 100 passengers is sometimes packed with 300.
Since most are long-distance trips, you can imagine the discomfort and misery of riding in such a cramped space. The only comfort, if it can be so called, is to know that you won't be put on the roof of the train or dangle from the door, which seems to be the case in some Southeast Asian nations, at least as illustrated in photos posted by comparison-prone netizens.
But you may need to lie under the seat, behind a row of legs, or be jammed in the toilet, or even up on the luggage rack. Having space to plant your feet on the floor is a relative luxury.
Yet, for that "privilege", you'll have to pay the same price as the guy guaranteed a seat.
Is that fair? As regular Chinese trains have three classes - hard seat, hard berth and soft berth - and are priced according to the level of comfort, shouldn't standing be cheaper than a hard seat, the least-expensive ticket under the current pricing scheme?
Those who take high-speed trains (trains with the initials D or G) do not need to worry about it. The railway department does not sell standing tickets. And they don't need to. The capacity for lines served by bullet trains is so high that tickets are readily available even for peak travel days - for a much higher price, of course, with first-class seats on par with an air ticket.
Unfortunately, China's network of high-speed railroads is still a work in progress. The completed lines serve mostly the coastal areas while a typical chunyun passenger is a migrant worker who leaves a coastal city for his hinterland home. If, for example, you want to go from Guangzhou to Chongqing a week before the Chinese New Year, you'll be considered lucky to get a standing ticket.