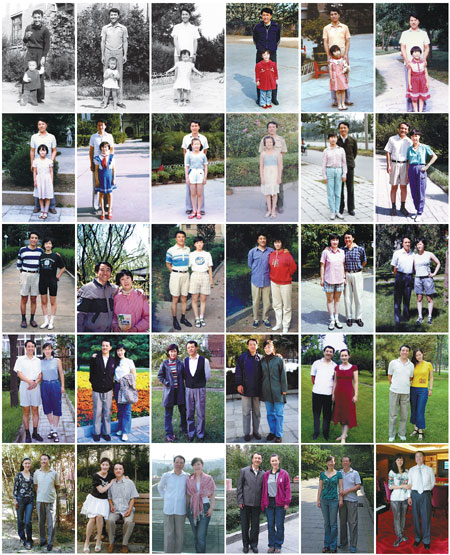 Zhao Mengmeng makes an album of 30 photographs taken with her dad around the same date for 30 straight years as a remarkable expression of love to her parent. Photos Provided to China Daily
Not many Chinese can say the words 'I Love You' easily, and some may even react with fear or suspicion on hearing it - but that's because the culture puts action before words. Tiffany Tan reports.
For Father's Day last year, Zhao Mengmeng made her dad an album of their photos taken at around the same date for 30 straight years. The first in the digital collection is a black-and-white print that shows Zhao at age 1, standing with her dad outside a brick building, her hand engulfed in his. The last shows the pair in full color three decades later, posing against a piano and a chandelier, Zhao's arms linked at the elbow with her 62-year-old father. The album, which Zhao also posted on her micro blog, is seen as a remarkable expression of a child's love for her parents. It has since been viewed hundreds of thousands of times. A video of their story, found online, has been watched at least 2 million times.
"I'm delighted the collection of photos can remind the public that time is fleeting, and so it's important to cherish time with family," Zhao says. "Sometimes people are too busy and take the love and care from their parents for granted."
Besides creating the album and sharing it with the public, how else does Zhao express her love and gratitude to her parents?
By keeping an eye on their health, buying things they need and helping them run errands, says the 31-year-old online media editor.
Has she ever told them "Wo ai ni" - I love you?
"I've never said it face-to-face," she says. "I think saying it is a bit odd."
Even to her own husband, she says, she only utters the words when she's joking around. Using a serious tone, she probably says it "once a year, or twice every three years".
Zhao is typically Chinese. Declarations of love, especially between parents and their children, are highly unusual among the Chinese. It's so unusual that last year, several local TV stations decided to tape the reaction of parents who got a call from their child just to say, "I love you."
"What's going on?" one father said.
"Why is my daughter this happy today? Has she finally found a boyfriend?"
Some pretended not to hear. "Are you coming home for Mid-Autumn Festival?" one mother replied. When her daughter repeated the three words, she said: "I've already sent the money."