Circle of Life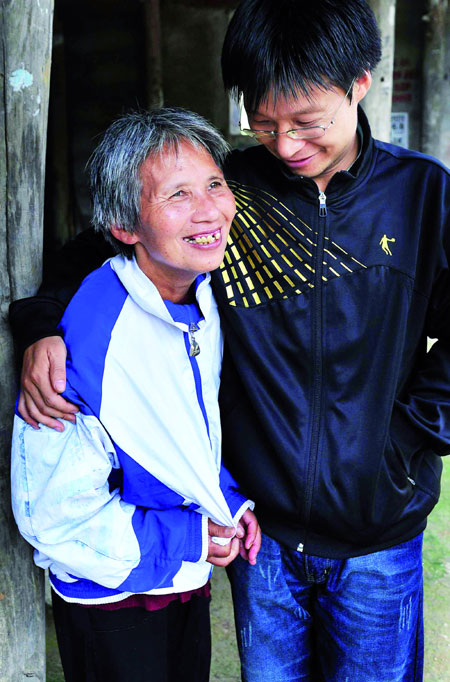 Over the past five years, Chen Binqiang has taken care of his mother, who suffers from Alzheimer's disease. [Photos provided to China Daily]
A school teacher has risen to the challenge of caring for his Alzheimer's-striken mother, in memory of his childhood, Wu Ni reports in Shanghai.
Chen Binqiang often remembers how he played and slept on his mother's back as a child while she toiled on their hometown farm in Pan'an county, Zhejiang province. His mother would usually tie him to her with a wide, long belt.
Chen, now a 37-year-old middle school teacher, uses the same belt to strap his mother against him so they can ride together on his electric bike to his work.
Chen's mother, 64-year-old Chen Yueguang, has struggled with Alzheimer's disease since 2007. The illness overtook her very quickly and she has lost the ability to speak and has become incontinent.
None of Chen's other family members, however, could take care of their sick mother.
Chen's father died in a traffic accident when he was 8; his two sisters married far away; and his wife has a 92-year-old bedridden grandmother to look after.
A nursing home was not an option, either.
"In the preliminary stage of the disease, when my mother maintained some mental ability, some relatives asked whether she was willing to live in a nursing home. After thinking for a while, my mother replied that she would like to live with her son," recalls Chen.