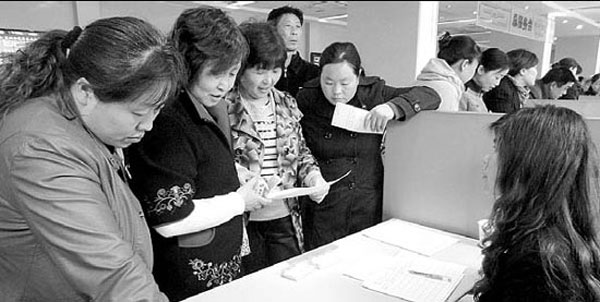 Domestic helpers look for openings at a recent job fair in Suzhou, Jiangsu province. The huge demand for domestic helpers has attracted many people to join the profession. [Photo by Wang Jiankang / China Daily]
Han Fang, a woman in Tianjin, is very worried these days, as she has not yet found a suitable nanny.
"I'm looking for an experienced postnatal nanny who can care for a new-born baby and cook for the mother, as my daughter will give birth in February. But the problem is, the birth will coincide with Spring Festival and most nannies will go back home for holiday," she said.
"Many agencies told me they won't have any experienced nannies available then, although there may be some without postnatal care experience."
Han is by no means alone in her suffering.
In recent years, the demand for domestic help has been rising rapidly across the country, and there will be an enormous shortfall in domestic staff during the holiday as most domestic helpers will return to their hometowns for family reunions.
Domestic helpers generally perform a variety of services for a family, such as postnatal care, caring for children and the elderly, household maintenance, cooking, food shopping and other household errands.
With the country's economic progress in the past decades, an increasing number of affluent urban families are hiring a domestic helper. But the supply of qualified domestic helpers lags far behind the demand. In Beijing alone, there are nearly 800,000 families reportedly seeking domestic helpers.
There are about 21 million workers in the domestic service industry, which is less than one-third of the demand, according to Liang Yun, deputy director of the Hunan Domestic Service Association.
"The demand for domestic helpers has soared in recent years and there simply are not enough qualified nannies," Liang said.
While an ordinary domestic helper can earn up to around 4,000 yuan ($636) each month, depending on the services they provide. The monthly salary of a yuesao, or postnatal caregiver, is about 6,000 yuan in major cities like Beijing and Shanghai. For those with a lot of experience, it can rise to 10,000 yuan a month.
The increasing number of expats who are working and living in China has also fueled the demand for high-end domestic helpers who can speak English and have good education background.
"I have some clients from Japan, South Korea and Germany. To meet their demands, I require my employees to learn some basic English and cook foreign food," said a woman surnamed Shen, who runs a domestic service agency in Shanghai.
"With these skills, their wages can be 40 to 60 percent more than those who work for Chinese families," she said.
But Liang said that most domestic helpers are woman from rural areas with a poor education.
"In the long run, they cannot meet the demand for a high-quality service," Liang said.
"Though some people with a college degree have started to join the industry, the total number is still very small. More vocational training should be provided to help people get the skills they need to succeed in this industry," he said.
In July 2012, the All-China Women's Federation announced that every year it would help at least 4,000 women from underprivileged rural areas in western China receive free professional training.