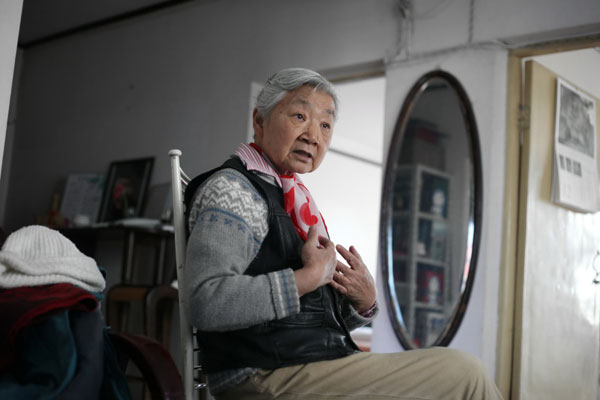 Xu Fengxiang, 81, is still as passionate about Tibet as the day her love affair started. Wang Jing / China Daily
Xu Fengxiang is an ecologist with a maverick view of the relationship between human and nature, and a passion for a place she did not visit until later in life. She tells Sun Ye her quest for the promised land.
Her love affair with Tibet started as a young girl even before she entered college, but she did not actually visit it until she was 47. By then, Xu Fengxiang's life was already inexorably linked to the land she loves so much, as it still is today.
Xu, 81, is legendary for her ecological research involving all four Tibetan ecosystems - the frozen tundra, wetlands, alpine pastures and forests.
Her collection of photographs, specimens and data helped filled the void in the scientific study of the highlands of the Tibet autonomous region, and has been recognized as a highly valued contribution.
Xu felt the pull of the land early, and while she was working as an ecologist with the Nanjing Forestry University, she was always looking for opportunities to work in Tibet. Finally, in 1978, she followed her calling and arrived in Tibet as an aid worker teaching ecology.
Two years later, she was back in Beijing lobbying for a more permanent position in Tibet. This time, she was granted her heart's desire - and she went back to Tibet, starting an ecology study that lasted 18 years.
Back at the capital, she became head of Beijing's Lingshan Tibet Museum Park, where she has introduced many Tibetan plant species to facilitate research and education.
It has been a long road for Xu, and one that was often rocky.
She was the first settler in a little wooden hut that functioned as the world's first ecology research institute on the plateau in 1985, when she was officially transferred to the Tibet autonomous region at the age of 54.
Huang Zongying, the writer and playwright who documented Xu's adventures in her 1984 book, Little Wooden House, said Xu's story is something one encounters "once in a lifetime".
On one occasion, out on expedition with the scientist, Huang saw how the skinny woman braved the cold and ignored food poisoning, bug bites and pain, focusing only on the living creatures of the forests. Huang called her "Tibet-worshipper".
From her first visit to Tibet to her latest journey of inspection in 2009, Xu's footprints have covered 130,000 km and all of Tibet's 20 major forests. She also visited the Qomolangma Base Camp twice, 5,400 meters above sea level.