Dirty work saves earth by recycling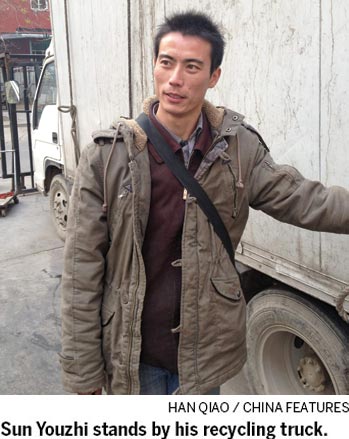 Beijing has a 200,000-strong army of recyclers and garbage collectors, who dispose of 20 million residents' waste.
Sun Youzhi is one of them. The 29-year-old from Henan province's Gushi county has a small recycling business in a residential area near the Bird's Nest - the 2008 Beijing Olympics' main stadium.
"There are a lot of tourists around here," Sun says.
"I collect a lot of empty water bottles."
He has spent 10 hours a day collecting waste around his residential area for the past four years.
"People sell water bottles, but few know where they end up," Sun says.
He buys waste from local residents and garbage collectors. Sun transports his waste every evening to a scrap market 6 km away, in suburban Dongxiaokou town.
Dongxiaokou is Beijing's largest waste trading center. Scores of collectors deal in waste paper, scrap metal, plastic and foam.
Waste is sorted and processed in the town. Waste paper dealers buy old books to sell to flea markets. Old newspapers are sorted and sent to paper mills, while paper cartons end up in packing stations.
Dealers compress and shred water bottles. They sell the material to chemical plants in neighboring Hebei province, where it's turned into polyester threads used to make clothes.
"The polyester in our T-shirts is very likely from water bottles," says Sun, who once worked in a plastic-shredding plant.