HIV/AIDS patients' children suffer in silence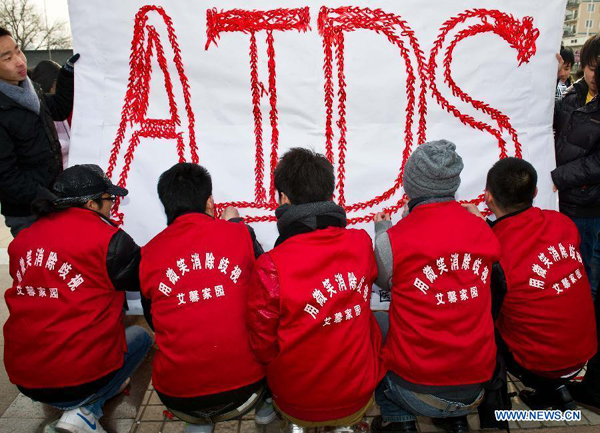 Volunteers collage the word "AIDS " by using red carpets to mark the World AIDS Day in Tianjin, Dec 1, 2012.[Photo/Xinhua]
Xiao Jie (not his real name) has kept his secret from his friends, teachers and classmates - even his girlfriend.
The 21-year-old sophomore at a college in Henan province's capital Zhengzhou was born to poor farmers in the province. Both his parents contracted HIV years ago, when they sold blood.
"I haven't told my girlfriend about my family's situation," he says, worriedly.
"Should I confess when the time is right? How should I explain it to her?"
He says he had to study very hard in high school because education was his only way out. He met his girlfriend though the student union last September.
Related: Blood test could show women at risk of postnatal depression
"Although we often have small quarrels due to our different personalities, I love her very much and really want to be with her for the rest of my life," he says.
To tell or not to tell - that is the question for many people who share Xiao Jie's background.
In the 1990s, tens of thousands of impoverished farmers from Henan made a living by illegally selling their blood. Many were infected with HIV because of the unsanitary collection practices and rampant needle sharing.
There were 55,424 people living with HIV/AIDS in the province as of Oct 31 this year, with 3,058 newly reported cases from January to October, the Henan Provincial Center for Disease Control and Prevention reports.
Although the government started to provide HIV/AIDS patients in rural areas with free medicine in 2003, most of the farmers are too sick to work, leaving their families without income.
Their children face both poverty and stigma.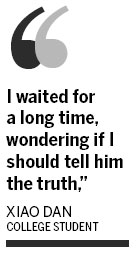 "Marriage becomes another big problem when they grow up and enter universities or society," Chi Heng Foundation senior communications officer Luo Jiaxu explains.
Since its 1998 founding in Hong Kong, Chi Heng has been funding the educations and living expenses of the children of parents with HIV/AIDS since 2002.
It has helped more than 8,000 children from nine provinces, fewer than 1 percent of whom live with HIV/AIDS.
The theme of this year's World AIDS Day on Dec 1 is "getting to zero" - that is, striving for zero new infections, zero discrimination and zero AIDS-related deaths.
Discrimination is a vast battle on its own.
Advocacy and Information Management program associate Guy Taylor from the UNAIDS China Office says such a stigma affects opportunities to work, study or seek medical care. It intensifies social pressure and family conflicts.
Xiao Dan has faced these problems.
"I feel very inferior when I'm with my boyfriend because his family's situation is far better than mine and he's an only child," the 20-year-old college student from Zhengzhou says.
Her mom lives with HIV, and her dad is physically disabled.
"I waited for a long time, wondering if I should tell him the truth," she says.
"I told him my family is poor so he wouldn't be totally dumfounded in the end," she says.
Xiao Dan joined Chi Heng's summer activities to help other children with the same background. Her boyfriend wondered what she was doing during the summer vacation.
Related: Healthy debate over premarital checks
"I told him online and sobbed, because I was afraid he wouldn't accept me and my family," she recalls.
"But he only said my mom is very great and treats me as well as before.
"Telling him was good for our relationship, but how can I deal with his parents? People from other provinces might hold more prejudices about the situation."
Beijing Normal University associate professor of psychology Lin Xiuyun says the couple needs to ensure their love is unconditional and both of their needs are met in the relationship before revealing the truth.
"In China, love is between two individuals, but marriage is between two families," Lin says.
Beijing Zhongyingkai Law Firm partner and attorney Zhang Peng points out that, while people with HIV can legally wed, those with AIDS might not be able to.
"It's not easy to say whether AIDS patients can get married because it's not clearly stated in the law and there are no such cases in court," he says.
"In my opinion, the court would likely find a marriage involving an AIDS patient invalid."
It's not uncommon for the children of parents with HIV/AIDS to become lovers. "Generally speaking, people from similar backgrounds tend to have long, stable and happy marriages," Lin says.
Taylor believes public awareness should be enhanced but such means as public-service advertisements, and community organizations can play a crucial role in the treatment and prevention of HIV/AIDS, especially among youth.
He says relevant laws and policies should be improved, discrimination should be erased and more legal assistance should be provided.
xulin@chinadaily.com.cn