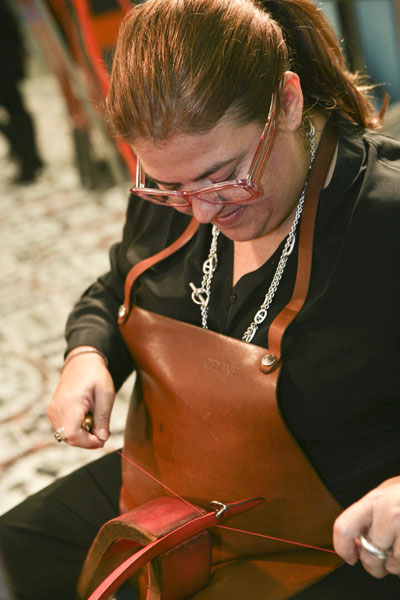 Celine Rochereau says that it takes about 18 to 20 hours to make single Hermes bag. Photos provided to China Daily
The fashion house Hermes provides a glimpse behind the scenes of how it produces its iconic products. Xu Junqian in Shanghai finds out more.
Related: Hermes homes in
For a peek at the secrets behind Hermes' iconic products look no further than an exhibition currently running in Shanghai, in the center hall of Shanghai Plaza 66. Marking the 175th anniversary of the French luxury house, Hermes presents Festival des Metiers, which debuted in Shanghai during the first week of November, and will be hosted by Beijing next year.
Nine of the fashion house's master artisans have been flown in from the company's atelier in Paris to the "Paris of the Orient", and have set up a mini-workshop to demonstrate their expertise.
"Every time we meet, we talk to you about our craftsmanship," says Florian Craen, Hermes managing director in North Asia, at the opening ceremony of the weeklong exhibition. "Now, I am glad to say we are finally bringing you what we have been talking about."
At the colorfully adorned site, nine master artisans show how the iconic Kelly bags are made, demonstrate the printing process for silk scarves, and of course, all the work that goes into their signature saddlery, for which Hermes has been famed since 1837.