A slice of screen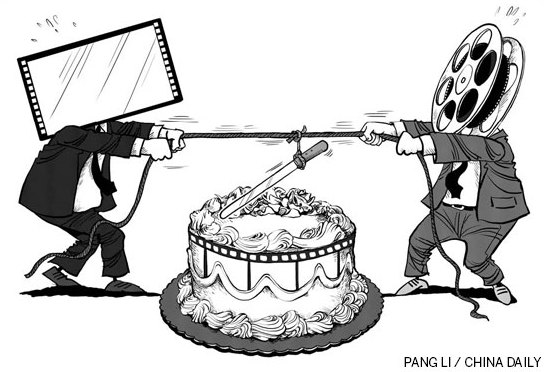 The latest salvo from the distribution/production arm of the nation's film industry reflects an ongoing fight among forces craving for a bigger piece of the growing pie that is China's box-office bonanza.
Five of China's most powerful film distribution/production companies have collectively asked to raise their share of the box-office revenue from the current 43 percent to 45 percent. This came right before the busiest season of the year for the business - the year-end season, which may span up to three months, from sometime in November to Valentine's Day, depending on which date the Chinese New Year falls on.
China Film, Huayi Brothers, Bona, Stellar and Enlight have recently notified movie theaters that they demand a slightly higher cut from the intake. It is reported that 10 cinema chains have rejected it. Wu Hehu of Shanghai United Circuit, one of the largest in the country, said he cannot accept this kind of "rudeness". He felt the best way is to find a compromise through negotiations, not by issuing a statement, and not before several big movies are to debut.
The main reason cited for a bump-up in revenue division for distributors/production is the increased cost of filmmaking, especially for movies with expensive special effects and more expensive A-list stars.
Ironically, there are many players who dip their toes simultaneously in all facets of the film business, from production to distribution to exhibition (exhibition is the industry term for showing movies in cinemas), just as it is the case with the US before the government forced film companies out of the exhibition business to prevent a monopoly. However, most of these Chinese firms are not equally invested in every arm of the industry. Some, like Wanda, started with their fully owned theaters and are now branching into production, while others, like Bona and Huayi, are latecomers as exhibitors - after they are fully established on the distribution or production side.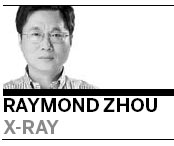 Qin Hong, president of Stellar Mege Film Industry Corp, shows his subtle stand when he says he understands the pressure faced by film producers. Stellar is involved in all aspects of the business, but is more known for its star-studded movies. Qin continues to explain that the uptick in share for production and distribution is a trend, which has little to do with inflation in the general market, and this move has the function of leverage.
This is very true. Exhibitors - movie theaters and their chains - have been losing power steadily over the years. Originally, or before 2002, their cut of the box-office tally ran as high as 67 percent. But producers like Zhang Weiping, who until recently spearheaded Zhang Yimou, have been using marketable directors and their big-budget works to raise the share. Each time, it was first an individual case, followed by the whole industry. In December 2011, Zhang Weiping single-handedly maneuvered a 45-percent share, the benchmark the current crop is aiming for, with the much-hyped Nanjing Massacre movie The Flowers of War.
In China, big-name movie directors are the most valuable asset in the film industry. Because they are rare and have a proven track record, they have a sizable built-in audience that no amount of promotion can equal. Hollywood movies are in a different league. Their cut of the box office was a paltry 13 percent until it was raised to 25 percent early this year. That is why they will jump through hoops to be classified as co-productions. As co-productions enjoy the full benefit as domestic ones, Hollywood's share will not be limited to 25 percent. That is, however, arm-wrestling between production and distribution because most imports are locally distributed by China Film or Huaxia, who are the biggest beneficiaries. Without getting into technical details, I'll say Hollywood movies are good for China's exhibitors and whoever gets the right to distribute them, but they are feared and loathed by producers and directors.
Now, how powerful are China's exhibitors? How many movie theaters and screens are there in the country?
If you read authoritative textbooks and reports in the US or France, you'll learn that China was in the top three in the number of cinemas, well over 20,000. But if you come across recent reports in China, you'll hear the elation that screens in the Chinese mainland are finally to reach 10,000 soon. Paradoxically, nobody I know has raised questions about this huge discrepancy.
The truth is, the numbers cited by those in academia of Western countries are outdated. Or more accurately, they have inadvertently applied a totally different definition for a movie theater. In the old days, movies were shown in every possible venue, mostly in multi-function halls that could double as meeting halls and opera theaters. If you counted every one of them, 20,000 was probably conservative. But nowadays, it is extremely rare to have a movie screened in such a venue. So, the professors must have included places that now screen a movie once every year, and charge a nominal fee for entrance. In that case, they should probably also include every gallery and even cafe in the tally as they may show movies more frequently than a school auditorium, albeit on a smaller screen.
When we say China is approaching 10,000 screens, the definition is more or less similar to what a movie theater is in the US, that is, multi-screen theaters that are used for no other purposes than showing movies. All of these theaters were built in the past decade or two, and yes, they are popping up at a rate of eight screens per day.
A movie ticket in China is slightly higher than one in the US in currency exchange terms. If you factor in comparable income, it is much, much higher. A ticket for a regular movie, sans 3D or IMAX, goes for around 80 yuan ($13), but you can get half price if you go for the morning shows, the Tuesday shows, or use one of many discounting services. Group buying will get you an even lower price, one third or a quarter of the original price. So, with the rate of inflation in the same period of time, a movie ticket has actually got cheaper every year in the past 15 years.
But the rumblings about high prices is a recent phenomenon. Why? One reason is the quality of the movie. When a must-see movie like Titanic or Avatar rolls along, there's not a whisper of griping.
The other reason is the growing size of the audience. The film-going experience as we know it is new, and the audience is steadily growing. But it is still a very urban and young audience. We can never expect to return to the height of film attendance such as that in the post-"cultural revolution" years, especially the record-setting year of 1979 when Chinese attendance reached 29.3 billion renci. The correct unit is not person, but number of tickets, but "ticket" is also a misnomer because many of the screenings were free and did not sell tickets. In comparison, China sold a total of 250 million tickets in 2010, plus free rural screenings equivalent to 2 billion free tickets.
Let's just focus on the 250 million tickets, which is an accurate gauge of the market. It shows the market is still very small and limited, and therefore has great potential to grow. But it also shows that, as it expands, the audience will incorporate more price-sensitive consumers who may be reluctant to pay a premium for what they consider standard service. In other words, the novelty factor of a modern, plush theater is wearing off. For them, it's either free streaming online or luxury seating for a price.
In terms of economics, when a sales channel is new and limited, it has a unique advantage where it can charge both the supplier and the customer. China's film exhibitors are the victims of their own success. The mushrooming of new movie theaters has already resulted in a drop in per-screen revenue in 2011, and now, with more venue choices, distributors will surely come in for what they consider their fair share. Yes, those exhibitors who rent instead of own are being squeezed by their landlords, and Chinese theaters, unlike those in the US, are mostly located in prime real estate like downtown shopping malls. But compared with production, which may have subzero profit margins if examined in average terms, the exhibition business is quite safe and steady.
Of course, if the government wants to alleviate some of the pain of the business, it can always reduce its take. It charges a sales tax of 3.3 percent, in addition to a 5-percent levy for the State Administration of Radio, Film and Television, the regulating agency. Combined, it is higher than the margin for most mature businesses.
Contact the writer at raymondzhou@chinadaily.com.cn.
(China Daily 11/17/2012 page11)