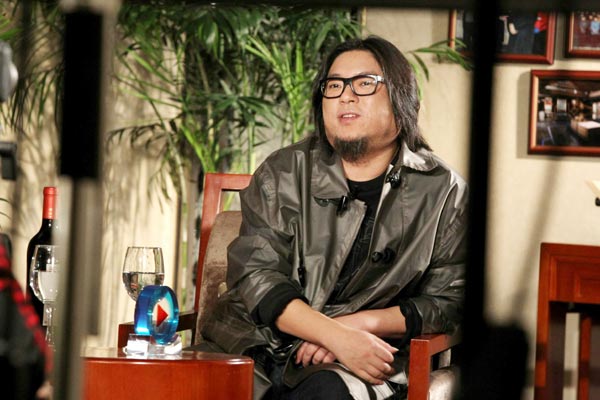 Gao Xiaosong has gotten busier after getting out of jail for drunken driving. Jiang Dong / China Daily
Songwriter, author and social commentator Gao Xiaosong says his drunken driving arrest has inspired him to rethink life and work. Liu Wei reports.
Gao Xiaosong thought he might be the right person to comment on cultural and social issues in China and the United States when he was pitching stories in Hollywood in 2006.
He'd been one of China's most successful songwriters and had created such smash hits as On the Same Page as You, which ushered in the "collegiate ballad" era in the 1990s.
When he visited his mother, who lived in Los Angeles, in 2006, he learned a small production company in Hollywood was recruiting directors. Gao was chosen by the company, which focuses on two genres: soft porn and art-house. He jokes the only difference is the heroine's breasts' size.
The film he directed never premiered, but he stayed in Hollywood to try his luck in the industry.
Gao's plan was to remake Chinese stories into American ones.
As an ardent history book reader, he initially wanted to write about ancient Chinese brothels but soon found there is no US equivalent.
In ancient China, men couldn't choose their wives — their parents arranged their marriage.
But the women in brothels were trained in music, painting and calligraphy. They could even discuss poetry. Ancient Chinese men went there not only for sex but also for romance.
Gao turned to biaoju — an organization that escorts merchants' goods and money along long journeys. Again, there was no US equivalent because Americans have their own guns.
"I found a lot of fun in these small discoveries, and I want to share them," he says.
Since March, he has been hosting a weekly talk show run by the video website Youku.com. He not only talks about brothels and biaoju but also the US presidential election, guns and healthcare.
His "small discoveries" shine like golden nuggets in every 20-minute episode.
Gao told audiences the presidential election is the US' largest talent show, only the procedures are more complex than American Idol. He shared his observations on the two candidates, pointing out this is the first contest in which neither is a WASP, or white Anglo-Saxon protestant.
When Gao talked about Asian-Americans, he related to young audiences by referring to Blair Waldorf, the Upper East Side "it" girl in New York and protagonist of Gossip Girl, whose two close friends are Asian and black.
"I know I am not a thoughtful person. But I know something about everything," he says.