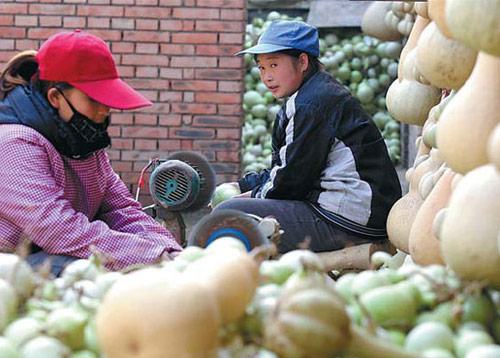 Family members help Liu peel gourds before drying them in the sun.
When Liu was a child, he once saw his granduncle made knots out of gourds. Like an artist who makes animals for kids out of balloons, his elder tried to make him happy with the funny gourds.
However, he never tried it himself and forgot about it until 1994, when one of his friends showed him an old textbook on how to make artistic gourds.
Related: Celebrities at Halloween party
"'I've seen much better,' that is what I told him," says Liu, who was then a casket-maker. He tried to remember everything he could, and "then devoted all my energy to gourds".
Novelty had always piqued his curiosity. When he worked in construction, he says, he was interested in interior design and often sneaked a look to see how things worked.
Though he grasps carving techniques, Liu says he does not have energy to expand his business other than growing aesthetic plants with some help from his wife and daughter-in-law.
He once got up at 2 am and drove his van for hours to sell the gourds in Panjiayuan, Beijing's antique market, but quit when that became too exhausting.
"It is not for a great dream, but to make ends meet," Liu says.
The demand for his unusual gourds exceeds the supply. Liu doesn't know how many gourds he has sold, but he earns more than 100,000 yuan ($16,020) a year.
Prices vary based on the shapes and sizes of the gourds. Swan gourds sell the best and even the smallest one brings 150 yuan ($23). Small, simple shapes go for less than 100 yuan.
Some rare ones are more expensive. A big gourd that was 65 cm high and 40 cm in diameter was newly sold for 12,000 yuan, while a set of three shaped gourds commanded a record-breaking 33,000 yuan.
According to Wang Chuntian, a wholesaler from Tianjin who has bought Liu's handiwork for almost five years, the peak period of gourd selling is from October to April. Most of his customers are from China, and a few from abroad.
"Liu is a nice guy. He only sells his products to those who really appreciate them," Wang says, noting that Liu won't sell some gourds no matter what price is offered.
Wang's workers finish some gourds by using an electric soldering iron after painting traditional Chinese pictures such as immortals on them. It takes one or two days to process such a gourd, but the fancy touches can increase the price threefold and sometimes up to sixfold.
"The Chinese pronunciation of gourd is close to that of happiness and fortune. People love gourds as decorations, especially the swan ones," Wang says.
The market is still undeveloped. On Taobao.com, one of China's leading e-commerce sites, only a few gourds with extraordinary shapes are on sale.
"I am not sure whether I should advertise my gourds," he says, looking doubtful. "Once I went to a tourism exhibition and found my gourds as well as the seeds in the fields - they were stolen by others. Other people began to copy my styles later."
Contact the writers at wangkaihao@chinadaily.com.cn and xulin@chinadaily.com.cn.