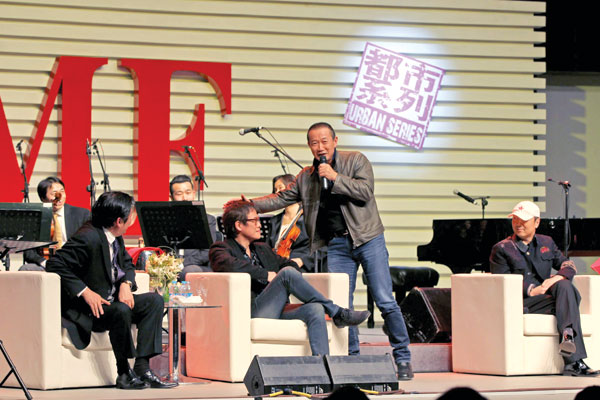 Cui Jian, the "godfather" of Chinese rock 'n' roll; Lo Ta Yu, known as the "Chinese Bob Dylan"; Tan Dun, one of China's most controversial contemporary musicians; and Yu Long, founder and artistic director of the Beijing Music Festival, gave a crossover talk and performance on Monday night at Sanlitun Village.
It was part of the BMF's urban series, created in collaboration with Swire Properties. The four shared their personal understandings of, and experiences with, music with about 450 people. Cui represented rock. Lo talked from the perspective of pop. And the classically trained Tan introduced his innovations of contemporary music. But all spoke of music's positive influence on people.
Under Yu's baton, the chamber orchestra of the China Philharmonic Orchestra played Lo's trademark song The Story of Time and Cui's signature piece Flower Room Girl. Lo played piano and sang his latest song, 2100, which he dedicated to his newborn daughter, while Cui and his band played Balls under the Red Flag.
The highlight of the evening came when Tan Dun conducted John Cage's most famous and controversial work, 4'33". Yu played drums, which he learned before he turned to conducting, with Lo on piano and Cui on trumpet, which was his main instrument before he became a rocker.