Kraft Foods aids quake victims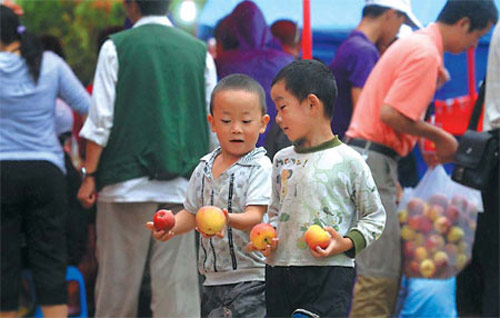 Two happy children after receiving free apples in Yiliang county in Southwest China's Yunnan province. After a 5.7-magnitude earthquake hit the region on Sept 7, supplies of food and finding somewhere to live have become a big problem for local residents. Kraft Foods Inc China donated more than 430,000 yuan ($68,000) of biscuits to affected children. A truck delivered the donation after setting out from the company's distribution center in Chengdu and arriving on Sept 11. Wang Huan / for China Daily
Food company sends 1,500 boxes of biscuits to area hit by big temblor
Kraft Foods Inc China donated 1,500 boxes of biscuits valued at more than 430,000 yuan ($68,000) to Yiliang county in Zhaotong, in Southwest China's Yunnan province, on Sept 10 after a 5.7-magnitude earthquake hit the region on Sept 7.
A truck loaded with the donation set out from the company's distribution center in Chengdu, arriving in Zhaotong city on Sept 11. Kraft Foods China Yunnan sales team and local distributors presented the donation to the Yunnan Zhaotong Red Cross on behalf of the company. The charity then distributed the biscuits to quake-affected people.
"All employees of Kraft Foods China care very much about the 700,000 people in Zhaotong whose lives have been affected by the earthquake. We hope our products helped to alleviate their urgent needs," said Shawn Warren, president of Kraft Foods China.
Kraft Foods' corporate vision is Make Today Delicious, which not only means it wants to provide delicious food and experiences to people but also reflects what it calls a sincere wish to give back to the community. Since 2005, more than 37 million yuan has been donated from the Oreo maker in cash and food to help people in need.
In addition to the biscuit donation, in July this year Kraft Foods China volunteers donated a new "Delicious Vegetable Garden" to the Fuhe Hope Boarding School in Sunzhuangzi village in Zhangjiakou, Hebei province.
"The 'Delicious Vegetable Garden' is part of our continued effort to develop Kraft Hope Kitchens in the rural schools of China. With the setting up of the veggie garden, Kraft Foods volunteers can help children to grow fresh vegetables to meet their diet and nutritional needs and grow respect for farming," said Pradeep Pant, president of Kraft Foods Asia-Pacific Region.
In August, Kraft Foods China volunteers built a Kraft Hope Kitchen at the Fuhe Hope Boarding School. Since then, 400 students in the rural school have been able to eat nutritious cooked meals every day.
"It is with great pleasure and pride that we launch this delicious veggie garden for the students today. When the garden is fully completed, we estimate that the vegetables and meat produced from here will satisfy 50 percent of the needs of the 400 boarding students.
"In addition, by involving the students in the daily maintenance of the garden, I hope they can feel the joy of labor and enjoy the delicious vegetables they grow by their own hands. I am also very proud and excited to announce that Kraft Foods will donate and build eight new Kraft Hope Kitchens in Zhangjiakou. This means more than 1,700 students were able to have nutritious meals cooked from the new kitchens when they returned to school in the autumn," Warren said.
Today, the Fuhe Hope Boarding School has a well-equipped kitchen and a "Delicious Vegetable Garden". The garden is around 700 square meters and contains a variety of produce including onions, tomatoes and cabbages.
With the support of a local agricultural technology center, students and teachers will develop the garden, which will contain six pigsties and be expanded to more than 25,000 sq m.
Kraft Hope Kitchen is a charity project jointly initiated by Kraft Foods China and the China Youth Development Foundation in October 2009 and designed to improve the nutrition and diet of rural school children.
At present, 150 well-equipped Kraft Hope Kitchens have been set up in 14 provinces in China, benefiting 75,000 rural school children with cooked meals every school day.
According to Gu Xiaojin, standing vice-chairman of the board of the China Youth Development Foundation, by 2012, the number of Kraft Hope Kitchens will reach 200, and benefit 100,000 rural school children.
Kraft Foods China volunteers donated the first "Delicious Vegetable Garden" in October 2011 to Shiwan Primary School in Huazhou city in South China's Guangdong province. Since then, students and teachers in the school have planted various vegetables and raised 60 pigs to supply almost all pork needs and 25 percent of the vegetables needed by the 300 boarding students in the primary school.
Kraft Foods Inc, the largest food company in the United States, makes biscuits, confectionery, beverages, cheese, grocery products and convenience meals in approximately 170 countries worldwide. In 2011, Kraft Foods achieved revenues of $54.4 billion, up 10.5 percent. Organic net revenues grew 6.6 percent. Twelve of the company's iconic brands, including Cadbury, Jacobs, Kraft, LU, Maxwell House and Oreo, generate revenues of more than $1 billion annually.
liwoke@chinadaily.com.cn