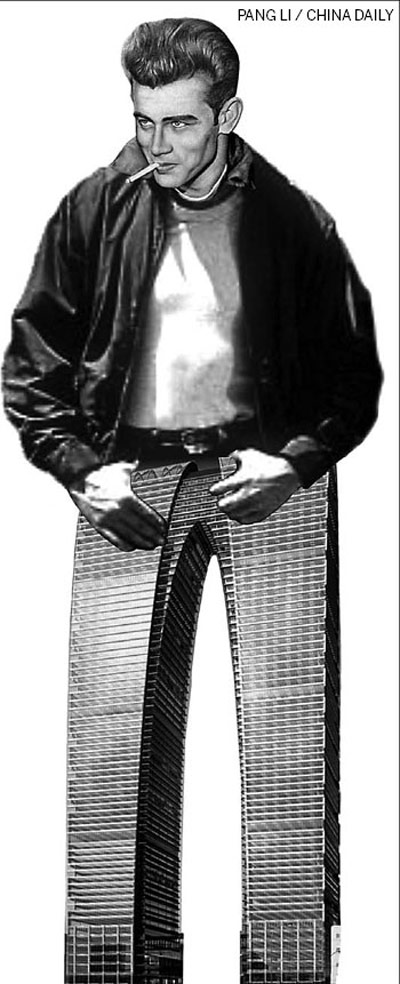 Populism in judging provocative architecture may attest to the pulse of public sentiment, but rarely does it foretell the fate of icon status.
A cluster of high-rises pierces Suzhou's skyline. Standing next to the Golden Rooster Lake, which anchors the bustling new downtown, will be 10 buildings. Two of these will shoot up 500 meters and connect at their top, forming an n-shaped twin tower that has spawned a spate of derision.
The cardinal sin, it seems, is the perceived resemblance with a pair of jeans. Some have joked that it would be appropriate if the Gate of the Orient, as the towers are officially known, becomes a hub for the garment industry, especially trouser producers. Others quip that the "Big Boxer Shorts", the nickname for the new CCTV tower in Beijing, would no longer be lonely with a newfound cousin in the south.
A healthy dose of sarcasm is good for expressing popular skepticism. But it would be a cheap shot for public intellectuals to jump on the bandwagon rather than probe the deeper causes for such reactions. Besides, how many of them have the specialized knowledge of architecture needed to offer educated opinions?
Of course, one does not have to be an expert to voice approval or disapproval. As China booms, there is no lack of outrageous structures that are anything but in harmony with their environments. There is a hotel not far from central Beijing that takes the shape of the ancient "immortals", a sort of Chinese magi with gaudy robes. The windows on the wall look like patterns on the robes.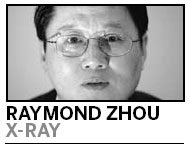 We Chinese have a penchant for architectural styles that push to the extreme literal likenesses of physical objects, usually auspicious ones that symbolize wealth or good fortune. Structures with the contours of ancient coins or liquor bottles are unequivocal about what they stand for.
Another approach is to replicate existing landmarks. No, I'm not talking about theme parks with miniature models of world-class buildings. There are functional edifices modeled on the White House or the Tian'anmen Rostrum, and the owners are unabashedly proud of their shanzhai (copycat) attitude and aptitude.
Behind the raucous objection to the "jeans tower" lies a public vigilance against visual association that's too close for comfort.
For more articles by Raymond Zhou, click here