Shining light on the sun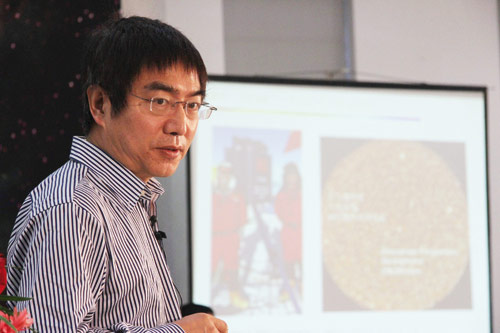 Wang Lifan, director of the Chinese Center for Antarctic Astronomy, demonstrates China's plan to set up an observatory in Antarctica at the 28th International Astronomical Assembly, held in Beijing in August. Provided to China Daily
Within the next decade, China will observe the sun with the world's largest solar telescope and set up its first overseas observatory in Antarctica.
Since 2010, the team for the Chinese Giant Solar Telescope (CGST), one of the next-generation ground-based solar telescopes, has been doing a scheduled four-year site survey for solar observations in western China.
The CGST project is expected to be approved and start in 2016, according to Deng Yuanyong, director of Huairou Solar Observing Station of the National Astronomical Observatories, under the Chinese Academy of Sciences.
The project is expected to be a leader in the field of solar observation for 20 years.
Deng says the CGST will surpass the capabilities of the large optical telescopes currently being planned by other countries, such as the US Advanced Technology Solar Telescope, which is going to be installed in Hawaii, and the European Solar Telescope. Both have a design diameter of 4 meters.
"As the CGST is still in its very early stage, we are looking forward to more international collaboration," Deng says in an interview with Xinhua News Agency.
Some large-scale astronomy projects in China, including the Large Sky Multi-Object Fiber Spectroscopic Telescope, completed in 2008, in Xinglong, Hebei province; and the 500-meter Aperture Spherical Radio Telescope, to be completed in 2016 in Pingtang county in Guizhou province, will provide experience for the building of CGST.
According to Wang Lifan, a researcher with the Purple Mountain Observatories of Chinese Academy of Sciences, China is planning to set up an observatory in Antarctica, China's first overseas observatory.
If approved and included in the 12th Five-Year Plan, the observatory should go into operation by 2020, Wang tells China Daily at the 28th International Astronomical Assembly, held in Beijing in August.
"Antarctica has the best conditions on Earth for astronomical observation, as it has very flat ground, a transparent atmosphere and little turbulence. The ground-based telescopes here will bring us precious information from the universe," says Wang, also the director of the Chinese Center for Antarctic Astronomy.
"Some countries like the US, France and Italy have set up telescopes in Antarctic, which has obtained important data and discoveries," says Chen Xuelei, a researcher with National Astronomical Observatories of the Chinese Academy of Sciences.