Londoners see more ups than downs in hosting Games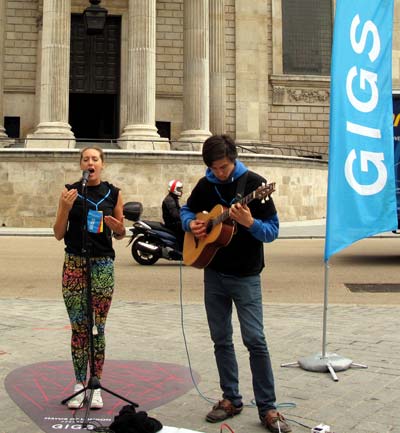 Some 200 acts will perform at more than 35 locations in London. Mu qian / China Daily
Mark Johnson-Brown became a volunteer performer at the London 2012 Olympic Games because he wanted to do what he saw in the opening ceremony of the Beijing 2008 Olympic Games.
"I would have died to be one of the 2,008 drummers in Beijing," says Johnson-Brown, 49, a professional drummer in London. "The kind of magic in their performance inspired me."
Last year Johnson-Brown applied to work for the Olympic Games, and he got offers for three paid jobs including managing work for the medal ceremonies. But when the chance to perform at the opening and closing ceremonies as a volunteer drummer came, he took that instead without hesitation.
"I have watched and loved the Olympic Games since I was a child," he says. "I was determined to get involved when the Games were coming to London, and to be involved as a performer would be my dream."
By the time he performs at the closing ceremony, he will have spent 200 hours in rehearsing for the shows.
"There is no question that we could ever compete with the drummers in Beijing, who were just perfect. My intention has been to be involved and to be part of a huge team," he says. "It's about community. The process has been enjoyable and almost spiritual, and has become more important than the goal."
He's not the only Londoner smiling this weekend.
"I'm happy the Olympic Games are taking place in London. It has certainly made London more colorful," jazz singer Alice Grace says.
Grace has taken part in Gigs, London's biggest street music competition presented by the mayor of London, in which some 200 acts will perform at more than 35 locations around the city through Aug 25.
The prizes for winners of the competition will include a license to busk on London Underground, a free place on the Higher Diploma Scholarship of The Institute of Contemporary Music Performance, and studio time to record an EP.
"I hope that Londoners and visitors to London will enjoy my performance in the street, and I'm hoping that I can get the prizes, so please vote for me!" she says.
But not every Londoner is happy with the 2012 Games. There have been complaints about the disruption of normal lives, about the prices of tickets, and doubt over the economic benefits of the Games. Many Londoners chose to leave London for holidays during this period of time to avoid the chaos.