Living off the soil, a few stories off the ground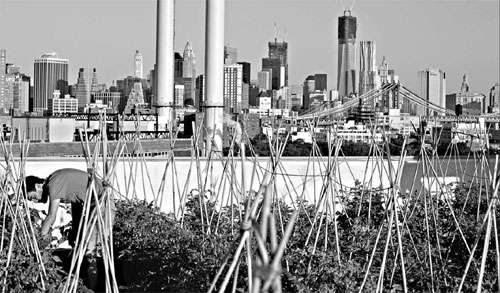 Rooftop farms are not only bringing agriculture back to the city, they could capture millions of liters of rainwater. Ben Flanner tended his crops. Angel Franco / The New York Times
New York City is suddenly a farming kind of town.
Almost a decade after the last family farm within New York City's boundaries closed, basil and bok choy are growing in Brooklyn, and tomatoes, leeks and cucumbers in Queens. And commercial agriculture is bound for the South Bronx, where the city recently solicited proposals for what would be the largest rooftop farm in the United States, and possibly the world.
Fed by the interest in locally grown produce, the new farm operations in New York are selling greens and other vegetables by the boxful to organically inclined residents, and by the bushel to supermarket chains like Whole Foods. The main difference between this century and previous ones is location: these new farms are spreading on rooftops, perhaps the last slice of untapped real estate in the city.
"In terms of rooftop commercial agriculture, New York is definitely a leader at this moment," said Joe Nasr, co-author of "Carrot City: Creating Places for Urban Agriculture" and a researcher at the Centre for Studies in Food Security at Ryerson University in Toronto.
For city officials, the rise of commercial agriculture has ancillary benefits, as well. Rooftop farms have the potential to capture millions of liters of storm water and divert it from the sewer system, which can overflow when it rains. And harvesting produce within city limits means fewer trucks on local roadways and lower greenhouse gas emissions, a goal of Mayor Michael R. Bloomberg's administration.
Community gardeners and educators have tended plots and grown food for years. But they have only recently been joined by for-profit companies intent on getting back to the urban land.
Gotham Greens began harvesting from its hydroponic greenhouse on a rooftop in the Greenpoint section of Brooklyn last year; it plans to open three more next year in Brooklyn, Queens and the Bronx. The existing operation, with 20 employees, grows bok choy, basil and oak leaf lettuce, and sells to retailers like Whole Foods and FreshDirect.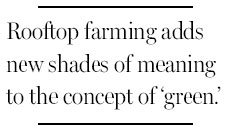 Brooklyn Grange, another farming operation, was meant to start with a site in Brooklyn. But two years ago, a 4,000-square-meter rooftop became available instead in Queens. The partners, led by Ben Flanner, the president and head farmer, spread out 540,000 kilograms of soil and started planting. This spring, Brooklyn Grange finally made good on its name, starting a second farm on a 6,000-square-meter roof at the Brooklyn Navy Yard, where more than 100 rows feature pattypan squash, scallions and beefsteak tomatoes.
Mr. Flanner pointed out two benefits to an agricultural aerie - plentiful sun and an absence of pests. "There are a number of parallels with regular agriculture," he said. "What we don't have are deer or foxes or rodents."
One challenge: wind, which can whip between buildings and topple delicate seedlings. "We do a lot of staking and trellising," he said.
Plans are in the works for even larger operations. In March, BrightFarms, which develops greenhouses near supermarkets to shorten the food supply chain, announced it would create a sprawling hydroponic greenhouse on a roof in Brooklyn that is expected to yield 450,000 kilograms of produce a year. The chief executive, Paul Lightfoot, said the greenhouse would occupy up to 9,300 square meters, making it the nation's largest such operation when it opens next year.
In June, the city's Economic Development Corporation requested proposals for a 19,000-square-meter rooftop farm on a city-owned building on Food Center Drive in Hunts Point, the food-distribution hub in the Bronx. "If we're successful at Food Center Drive, our hope would be to replicate this elsewhere," said Seth W. Pinsky, the corporation's president.
The City Planning Department recently revamped the zoning regulations to encourage green development, including rooftop farms. The new rules, called Zone Green, exempt greenhouses on nonresidential buildings from certain height and floor-area limits.
Amanda M. Burden, the planning commissioner, credited the changes with "creating more places for urban agriculture to take root in a dense, built-up environment."
The New York Times