Program funds wildlife protection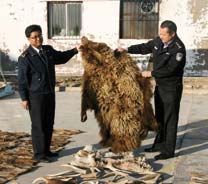 Police from the Altay Customs, in Xinjiang Uygur autonomous region, show off the confiscated wild animal skins. Provided to China Daily
The fourth installment of the Wildlife Guard Action, a program to fund individuals and organizations involved in the enforcement of wildlife protection in China, was launched on July 13.
Founded in 2008 by Wildlife Conservation Society (WCS), a NGO based in New York, the program has so far awarded 75 "wildlife guards" who carry out enforcement against the illegal wildlife product trade in China.
The procedure of applying for the funding started from May 24, and will close on July 31. Qualified applicants will receive equipment and relevant training programs.
Elizabeth Bennett, deputy director of WCS, expressed her support to stop the illegal wildlife trade in China in a video played at the news conference to announce the program. She praised the country's determination and endeavors in protecting wildlife.
A noted conservationist, Bennett wrote a paper in 2011 emphasizing that sophisticated illegal trading in wildlife parts conducted by organized crime groups, coupled with antiquated enforcement methods, are "decimating the world's most beloved species - including rhinos, tigers and elephants - on a scale never before seen".
The paper indicated that much of the trade is driven by wealthy East Asian markets that have a seemingly insatiable appetite for wildlife parts.
According to the report, organized crime syndicates using sophisticated smuggling operations have penetrated even previously secure wildlife populations. Some of the elaborate methods include: hidden compartments in shipping containers, rapidly changing smuggling routes, and the use of e-commerce to avert detection of locations.
Bennett says an immediate short-term solution to stave off the local extinction of wildlife is through law enforcement. She also stressed the commitment of resources to supersede those of the criminal organizations.
The program managed to attract a wide range of agencies in China. They included government agencies such as the law enforcement bureaus from General Administration of Customs and State Forestry Administration, domestic and international NGOs as well as representatives from universities, enterprises and media.
Media representative Liu Jing, chief content director of China National Geographic Magazine called on members of the media to focus on and disclose illegal wildlife products trade and related issues.
Photographer Liang Yongguang from National Geographic Magazine and Yang Wanguo, an investigative reporter from the Beijing News, shared their experiences of reporting on the frontline of illegal wildlife trade.
More than 20 Chinese media indicated their commitment by signing on the wildlife protection proposal.
From mid-July, three professional film and media groups will film a documentary of wildlife guards in action. Famous director Feng Xiaoning will be the chief consultant.
More information about the program is available on www.baohu.org.
wangru@chinadaily.com.cn