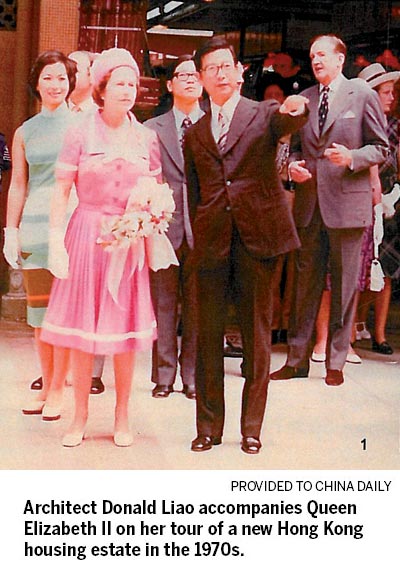 They say that a photo is worth a 1,000 words. In the early 1970s, Queen Elizabeth II was at the height of her reign. One of the pleasures of her job was sailing to Hong Kong aboard HMY Britannia. Architect Donald Liao, too, was at the peak of his career, as the first Chinese director of Hong Kong's Housing Authority.
On one of the Queen's visits, he took her on a tour, a visit to Oi Man, one of his new housing estates. A photo captured this historic visit: Liao pointing at a design feature, with her looking on attentively and former governor Murray MacLehose relegated to the background.
"Public housing in the 60s to 80s was the pride of Hong Kong," Liao recalls. "Every single royal family member was shown public housing estates. I was at the Housing Authority for nearly 30 years, though the last five years in government were more political, as I participated in the handover negotiations. I was on the British side but I had a Chinese face."
Liao never intended to be an architect. He originally wanted to go to the United States to be a cowboy. His father, the mayor of Liao's hometown in western Taiwan and a sixth generation landowner in the area, thought that his favorite son should learn some English first. British Hong Kong was closer than California, and 17-year-old Liao was sent there.
At St. Joseph's College, along with Jackson Wong and Norbert Chan, he answered a University of Hong Kong advert calling for students to enroll in its new architecture program. The year was 1950.
They all applied and were all accepted. Liao never left Hong Kong, taking on a job at the Housing Authority. He also met a young dancer, who became his wife, Christine Liao.
The urgent need for public housing estates in the 60s came to light after the devastating Shek Kip Mei fire wiped out thousands of makeshift shanties sheltering illegal refugees from the Chinese mainland.
"To design public housing, I believe you must start from a basic assumption that you are providing an independent, self-contained unit," Liao says. "That means each unit must have its own kitchen and bathroom. Previously, these facilities were shared on the Mark and So Uk estates.
"Wah Fu was virgin land and the first estate which had the size of a new town population. It was planned more than 50,000 would live there. It has its own facilities: schools, markets, clinics, shops and library.
"It was a south facing site, on a knoll like a peninsula - and I wanted to create a feeling of sculpture in the estate. Wah Fu became the model of subsequent housing estates, both public and private."
More than 40 years later, Liao's son Philip is ensuring that Hong Kong's architectural legacy is preserved for future generations.
After winning second prize in the competition for the design of West Kowloon Cultural District in 2002 - first prize went to Sir Norman Foster - the younger Liao has since given new life to a series of buildings in Pokfulam, for the Hong Kong Academy of Performing Arts.
Combining Dairy Farm cowsheds with Bethanie, a former sanatorium for recuperating French missionaries, the site is now a popular place for weddings. It received an honorable mention at the 2008 UNESCO Asia-Pacific Cultural Heritage Awards.
Philip Liao most recently completed Tai O Heritage Hotel, transforming a former 1902 colonial outpost into a nine-room luxury boutique hotel.
The former police station was strategically located as Tai O was the landing place for many illegal immigrants entering colonial Hong Kong in the 60s and 70s.
"We found a dead dog in one of the cells when we took over the site four years ago," he says. "The site itself was a challenge. We couldn't fell any trees. The building is on a steep slope yet we had to provide universal access."
Philip Liao grew up wanting to be an architect, inspired by his father.
"I don't think I can ever do what dad did. He solved a very necessary social issue. What we do at our office is minuscule compared to what he did during his career."
Contact the writer at sundayed@chinadaily.com.cn.