Hong Kong faces the future
Fifteen years after it returned to the motherland, Hong Kong is still finding its rightful place in the extended family. Pauline D. Loh takes the pulse of former legislator Christine Loh.
In the opulent lobby of the JW Marriott, the scents of French perfume and Italian leather compete with the bouquet of rich brews coming from the hotel's tea bar. This is where Hong Kong's movers and shakers meet and greet international visitors. It is where we arrange to see Christine Loh, ex-legislator under the British administration and currently head of the policy think tank Civic Exchange. She is known for being a vocal critic of environmental wrongdoings, and has a reputation that tilts more right than left.
Yet, when I ask her what is the difference between Hong Kong under the British and Hong Kong now, her answer surprises me.
"After the handover in 1997, we gained a country."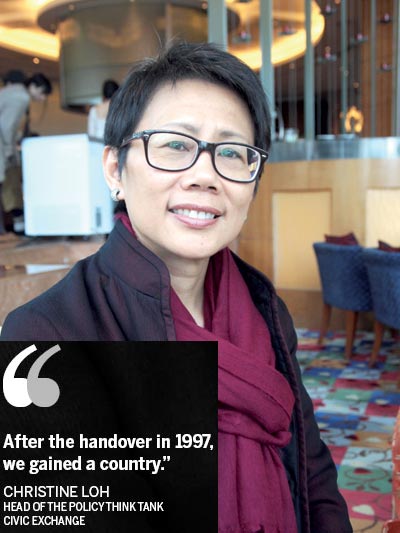 Former legislator Christine Loh talks about the differences between Hong Kong under the British and now, on the 15th anniversary of Hong Kong's return to China. Pauline D. Loh / China Daily
It was a measured response that came straight off the cuff, from the heart, considering her work as a human right activist, and founder of the Hong Kong Human Rights Monitor.
Loh's international accolades would fill a whole folder, but she is best known for her work on environmental policies. Her main platform is Civic Exchange, a non-profit think tank she founded three years after Hong Kong's return to China.
"Twelve years have gone by very quickly. My original goal in setting up a non-profit think tank was to focus work on public policy to find solutions to problems.
"Our aim is to do evidence-based research in the public interest. We are non-partisan and non-affiliated with any vested interest. Another aim is that we are based in Hong Kong, that is South China, and we want to always ensure a good portion of our work is related to this region.
"China is a massive country, and it's never easy to focus on such a big area. Thus, we have chosen our own geographical region as a focus for work. We are also interested in Asia.
"We now have strong networks of research partners in Hong Kong, the mainland and overseas and we have managed to influence some areas of public policy."
Policy recommendations can be unpopular and often thankless, so what drives her conviction and commitment?
"I believe in 'thinking'. I see thinking as a prerequisite to finding solutions.
"Thinking shouldn't be a lonely affair because in solving public issues, such as cleaning up air pollution, or achieving good urban development, the first step must be reflection.
"To find solutions, I want to make evidence-based assessments. I have seen, too often, people make assessments based on assumptions that are not born out by evidence. The solutions then don't solve the problem.
"I also believe thinking in public policy needs to be practically focused. Solutions need to be convincing. Just because they are the right solutions from the evidence, it doesn't mean people will support them, if people don't understand them."
Civic Exchange advocates "thinking" with stakeholders, a process that is often referred to as "stakeholder or public engagement", to build a consensus. It is a long, slow process that requires collection of evidence, presentation of problems in an objective way, designing and holding deliberative processes for stakeholders and public engagement, learning from the engagement process and using that to finally propose policies and implement steps.
Is it worth the effort, and has she seen any progress? Loh hedges a little, but decides to quote a recent success.
"A recent example is the Fair Winds Charter. This is an example of how our work is having an impact in greening port policies in South China."
The report Loh refers to is Civic Exchange's paper on shipping emissions and clean air in port cities. And this steers our conversation toward Loh's favorite subject.
What are the greatest problems facing the environment in China today, and what are her suggested solutions?
"China's environment is in bad shape. I think this is generally well known. We can pick any particular issue, such as air, water, soil, ecology, climate change, and discuss the details.
"The air is very bad in many cities, and this is having a negative health impact on many people. My biggest concern is we haven't stopped doing some things we know should not be done, the most important of which is to protect those sensitive ecological areas.
"For example, headwater areas must be protected otherwise the water sources of the Chinese people will be put at risk. One of our recent research papers looked at industrial relocation in Guangdong province and warns against moving industries to the headwaters area in Heyuan.
"Another important area is the Golden Cross in Sichuan-Yunnan, which has amazing biodiversity but development threatens this area. Such an area should not be touched no matter what mineral resources and hydropower potential there are.
"As a solution, I am working on an idea where governments and State-owned industries must practice ecological restoration.
"For example, if you are in oil and gas or in mining, you should use a portion of your profits to restore and protect a degraded area in your home country. Thus, if you are a major MNC (multinational corporation) and say you are extracting gas or minerals in China, the MNC and China should have an agreement to restore another area, this may then protect areas like the Golden Cross as 'no touch' zones.
"If you are a domestic State-owned enterprise drilling oil in China, a portion of your profits should be used to protect ecosystems."
Loh's passion is infectious, and as we wind down the interview, she reiterates her position as a citizen:
"When the British departed and Hong Kong became a part of China again, we gained a country. As a developing country, there is a lot that still needs to be done, so people from Hong Kong, too, must make a positive contribution."
Finally, I ask her if she had to draw up some guidelines for us to live on a better Earth, what would her suggestions be.
"Spend on experiences of value and less on material things.
"Protect and restore ecosystems because their functions are more valuable than the things we can extract from the Earth.
"Design our cities for human living, where urban planning and design assist conviviality, social harmony and good health.
"Give our children the 'Earth Operation' manual, so they know what to do."
Contact the writer at paulined@chinadaily.com.cn.