The undercover 'migrant worker'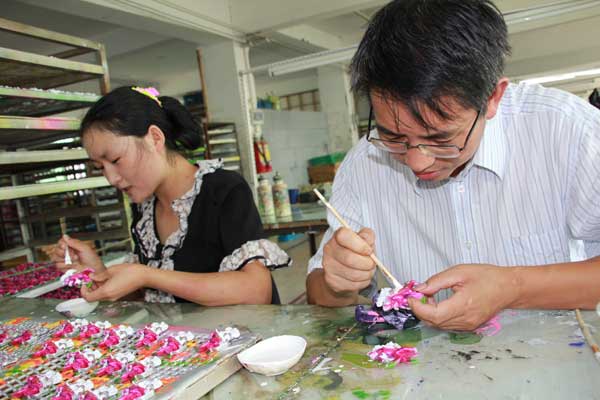 Chen Jiashun works at a handicraft factory in Yiwu, Zhejiang province, to learn more about working conditions in the migrant community. Provided to China Daily
Chen Jiashun has worked as a pig herder, a porter, a math teacher for migrant students and a storekeeper in Yiwu, a city in Zhejiang province that's famous for its small commodity trade and vibrant free markets.
But the 44-year-old's real job is a human resource and social security official in Yunnan province's Zhanyi county. And this meant he sometimes needed to go undercover to discover the realities farmers-turned-workers face.
Farmers in Zhanyi typically earn less than 5,000 yuan ($790) a year from agriculture, so many have migrated to Yiwu for better jobs.
The county began to develop human resource transfers as one of its pillar industries in 2004.
It set up a workstation in Yiwu in 2007 to help farmers find jobs there and to support migrant workers from Zhanyi.
Chen was appointed as head of the station. His duties include collecting employment information and assisting migrant workers, who are treated unfairly or are involved in disputes.
The first batch of 300 people arrived in Yiwu in 2007, but 60 percent of them quickly returned home.
They were dissatisfied because they couldn't earn as much as local officials had promised. They felt duped.
"Local officials said one could earn 1,200 yuan a month," Chen says.
"But they received only 900 yuan after deducting utilities."
Also, workers weren't allowed sick leave, Chen says.
So, many decided to return.
"Take us home just like you brought us here," one told Chen.
Chen worked and lived with the workers to persuade them to stay and improve their work conditions. He urged employers to allow workers leave and to stop giving them utility bills.
But he failed.
Chen realized he needed to collect more detailed job information before mobilizing farmers to come to the city.
After discussing the situation with other officials at the workstation, Chen decided to work as a migrant worker to understand their actual work conditions.
He landed a job at a factory producing accessories and kept his true identity a secret.
Over the following month, he discovered the working and living conditions were lower than they should be. He informed the county government.
"When we recruit workers for the factories, we must give applicants the accurate information," Chen says.
"It could be misleading to tell farmers they can generally earn 1,500 yuan a month."
Chen has worked in five factories and found jobs for more than 7,000 people.
He had been a middle school headmaster before being transferred to the county human resource and social security bureau. He once taught math in a school for migrant children in Yiwu to collect information about the realities they faced.
He says going undercover has enabled him to better understand migrant workers' needs.
"Without Chen's instruction, we couldn't have achieved what we have today," Zhanyi native Wen Caixiang says.
Wen and her husband are migrant workers, who landed jobs in Yiwu with Chen's help in March 2008. The couple also received his encouragement and support when they opened a handicraft production base in Yiwu in 2010. They hired 18 migrant workers from Zhanyi early this year.
Chen no longer works undercover and stays at the workstation for a third of the year.
He has also established an information network which migrant workers can use to report workplace information.
"Our people see us as their hope," Chen says.
"We can't let them down."
guoanfei@chinadaily.com.cn