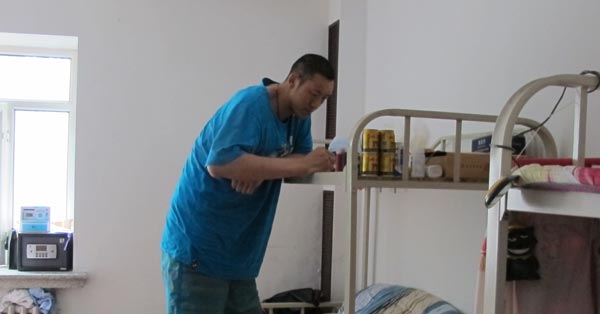 Top: Sun Mingming warms up before a CBA game in Beijing in 2011. Provided to China Daily Above: Sun now lives in the dorms of the Sports Training Academy of Heilongjiang province. Zhang Yue / China Daily

Sun Mingming, who was formerly one of the world's tallest professional basketball players, is going back to school to pursue higher education. Zhang Yue speaks with him in Harbin.
Sun Mingming is adjusting to life since he swapped the basketball court for the classroom, ending his contract with the Beijing Ducks and his career as one of the world's tallest professional players - standing at 2.36 meters, after a 2005 brain surgery in the United States halted his continual growth caused by gigantism.
He's still getting used to a less disciplined existence, he says.
Sun now wakes up naturally and doesn't have to rush for breakfast or warm-up exercises before his daily training, as he has done for the past 15 years.
"I'm still adjusting to a normal life," Sun says.
"But discipline has been my life for years. I still wake up around 7 am."
While he's not playing pro games at the moment, he still hits the court often.
But the 29-year-old is spending more time in the classroom, from which he has been away for more than a decade.
Sun took the National College Entrance Examination this year in Heilongjiang province, where his hometown is located.
"I felt so weird, especially when I picked up a pen and wrote on the paper," Sun recalls, laughing.
"I hadn't written that much in years."
Sun quit school at age 14.
On the exams' second day, he posted on his Sina Weibo micro blog: "I don't really know how to answer these questions. Math is especially hard!"
He received encouragement from his fans.
Sun opened his micro blog account in late 2010, and its introduction still reads: "player for the Beijing basketball team."
Liu Yuanxu, who was born in the same county that Sun grew up in, says almost everyone in her hometown knows about the tall and famous basketball player.
"What I knew is Sun is quite famous and good on the basketball court, and has played in the US," Liu says.
"A county doesn't get many famous people like him. I'm curious as to why he stopped playing pro."
Sun has his reasons.
"I have to find a way to support myself besides basketball," Sun says.
"I'm not going to play all my life. Going back to school might be the most appropriate choice to pick up something else I can rely on in the future."
When Sun mentioned the idea of going back to school to his parents last year, his father said: "You should have done that years ago. You're almost in your 30s".
Sun took the entrance exam with a group of teenagers. He scored 292, which he says qualifies him for the physical education institute to which he applied.
"I don't know what to say about ending the Beijing Ducks contract," Sun says, leaning on his dorm's wall.
"Continuing a contract requires willingness from both sides, if you know what I mean."
Sun has been living in the dorms of the Sports Training Academy of Heilongjiang province since he returned from Beijing this April.
The school is where he started playing basketball at 14.
Sun is still a household name in the institute, where he's usually referred to as "the tall guy".
He shares a four-bed dorm with another basketball player, he says, sitting on the bottom bunk. The bed is 1.8 meters long, so Sun sleeps with his legs hanging over the edge. But that's nothing new for Sun.
"You deal with many inconveniences growing up this tall," he says.
"You get used to it."
Sun takes the soft-sleeper night train when he travels between Beijing and Harbin, although he has to squeeze into his bunk.
"Sitting in the confined space of the crowded plane is even more uncomfortable for me," he says.
Sun occasionally plays for colleges and institutes in Harbin. He also does three to four hours of training with some other team's members. Most are playing for the National Basketball League.
Sun is expecting his admission letter to the Harbin Institute of Physical Education, which should arrive by the end of June.
"I chose Harbin because it's closer to my family," he says.
"That's the most important reason."
After years in Beijing, the US, Japan and other places, Sun hopes to be close to his home in Bayan county.
He went to the US in 2005 and trained there for several years, during which he frequently appeared on talk shows.
His popularity surged during that time. Sun hired an agent to deal with games and TV appearances.
"He participated in the Jimmy Kimmel (Live!) talk show," recalls Charles Bonsignore, who was Sun's agent in the US.
"They gave him a translator who could not speak Mandarin very well. Sun looked at me and said: 'My English is better than her Chinese'. During the talk show, Sun answered all the questions directly from the host, Jimmy Kimmel. The crowd really enjoyed him."
What Sun loved most about the US is that he could buy basketball shoes that fit his large feet. The country is where he bought his first pair of basketball shoes that fit his size-53 feet. The largest shoes he could find in his hometown then were size 46.
He used to wear cloth shoes made by his mother off-court and squeeze into the size-46 shoes for training.
"My feet were always bleeding and infected," he recalls.
Sun says he can't remember how many times he has considered giving up basketball since age 14 because of such experiences.
But he persisted when he discovered a team member, who was older and better than him, earned tens of thousands of yuan.
"I was originally chosen for the provincial team only because I was tall," he says.
"The only reason I dropped out of school to join the team was to save my parents money. They didn't need to pay my tuition anymore."
But he realizes education is essential, he says.
"More than half my childhood teammates aren't pro players," he says.
"Some are doing business, and some went to university years ago and now have decent office jobs. But without basketball, I have nowhere to go without a college degree."
A decent and stable job is what Sun wants most. This is partly because he's getting married next year and bought a new house in Daqing city, near Harbin, last year.
Sun and his girlfriend, 24-year-old handball player Xu Yan, have been together for about two years. The woman is scheduled to graduate next year with a physical therapy degree from Harbin Normal University.
Bonsignore, Sun's agent in the US, says: "I think it's excellent for him to go back to school. Sun is a hard worker. His feet have been giving him problems for several years.
"I believe he will make a very good coach. He studies what works and is not afraid to change something that does not work."
Sun's former Ducks teammate Wang Xiaohui says: "He takes care of me like my big brother, and I give him my best wishes. And I guess that, as basketball players, we all have a point in our lives when we make such decisions."
Contact the writer at zhangyue@chinadaily.com.cn.