Fighting to the end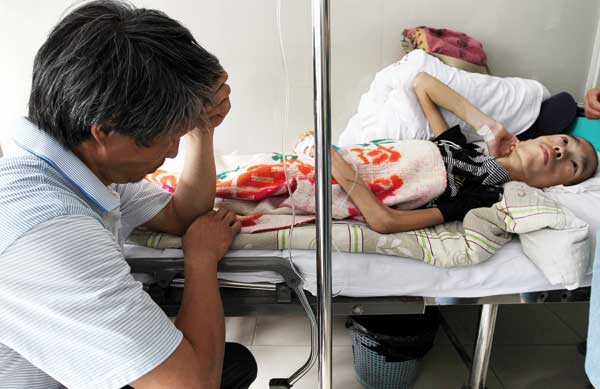 Lymphoma patient Wang Chongchong, 17, at the No 1 Affiliated Hospital of the Medical School of Zhejiang University, with his father, Wang Jinyan, at his bedside. Photos by Lin Yunlong / for China Daily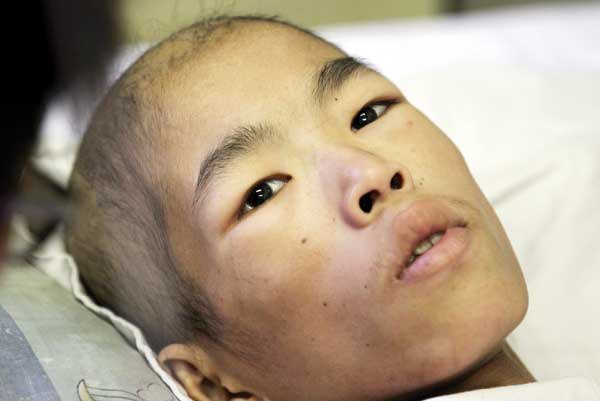 A boy whose struggle against lymphoma has touched the nation may lose his battle soon. Xu Junqian and Zhou Yiyi report in Hangzhou.
The life of a 17-year-old Henan province native, whose story has moved the country, may end soon because of lymphoma, despite a flood of donations for his medical treatments and his fierce determination to live. Wang Chongchong will likely never make it to senior high, which he should have started a year ago. Upon realizing he would probably die soon, the boy traveled to "have one last look" at the majestic West Lake in Zhejiang province's capital Hangzhou two weeks ago.
His father, Wang Jinyan, has toiled as a migrant worker in Hangzhou for 10 years.
"Before (he got) cancer, Chongchong came to spend the summer vacation with us in Hangzhou every year," the father says.
"He never got tired of a seeing the lake."
But the excruciating pain and the illness' toll has become so overwhelming that the boy can't keep his eyes open. So, the teen, who weighs less than 25 kg, is now bedridden in the hospital.
Wang Chongchong was diagnosed with lymphoma two years ago. The disease is a type of cancer involving cells of the immune system.
The first sign something was wrong was when he experienced strong chest pains during morning exercises at school. He was sent to a hospital in Henan province's capital Zhengzhou.
He has since been on a "national tour" with his parents to advocate for a cure for the disease.
But the high medical fees and "unendurable pain" has discouraged the family.
They stopped going to the hospital in April, and have since relied on traditional Chinese medicine, a milder and cheaper approach.
"We were ransacked by all kinds of payments and couldn't bear to put our son through all the nausea and dizziness that comes from the chemo," the father told the Qianjiang Evening News, a daily newspaper in Hangzhou.
The boy fled the hospital twice during chemotherapy because he couldn't stand the side effects, the newspaper reports.
The parents have been working harder to earn more to cover their son's treatments.
Wang works from 10 am to 4 pm as a cleaner on a high-speed train at Hangzhou's railway station. He spends the rest of the day delivering newspapers.
His wife, who has a hearing disability, has been taking care of their son in their 10-square-meter rented apartment on Hangzhou's outskirts because they couldn't afford to keep him in the hospital.
The boy's aggressive tumor is rapidly spreading throughout his body. He knows his days are numbered, which is why he wanted to visit the lake.
"He has always been very brave and thoughtful, and never asked for anything after he got cancer," the father says.
"So, it was devastating to hear him saying he just wanted to see West Lake."
While the teen's wish has gone unfulfilled because he fell unconscious on the way to West Lake, his will to live - "even for one more day" - is growing stronger, Qianjiang Evening News journalists reported during a first visit on June 13.
"If there's a glimmer of hope, could you please ask people to kindly help me live a little longer?" he is quoted as asking them.
"If there is no chance, I just want to donate my organs to those who have hope."
Reporters described him as "willowy and white as a sheet of paper".
Wang's spirit of survival has touched many since the newspaper published his story.
By Sunday, people had donated more than 150,000 yuan ($23,800). Acclaimed artist He Shuifa donated a painting, which was sold at an impromptu auction.
But Wang Chongchong's chances for survival are slim, says his doctor, Jin Jie, who's chief of the hemetology department of the No 1 Affiliated Hospital of the Medical School of Zhejiang University.
"The most opportune time to save his life has been missed," says Jin, who has practiced medicine for more than three decades.
"At this point, any kind of treatment will only add to his suffering. I have never seen a cancer patient like this. The boy's so skinny."
Because of the teen's advanced stage of cancer, only his corneas could be donated, the doctor says.
His father says that, despite his grief, he is grateful to those who care about his son.
He says the family has received enough money to care for the boy for his remaining days. The remainder will be donated to other cancer patients, who still have hope.
Jin, the doctor, says she hopes Wang's case can bring more public attention to cancer.
"There are many patients, including those at our hospital, who are in desperate need of financial assistance," Jin says.
"Some of them can be cured. It's a tragedy to see them give up, simply because they don't have enough money."
Contact the writers through xujunqian@chinadaily.com.cn.