Thailand's young losing interest in rice farming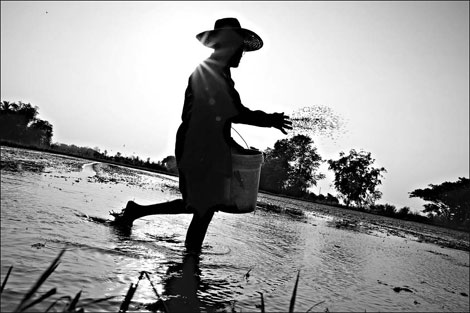 Thailand is the world's leading rice exporter, but industrialization is bringing change. Sowing rice in Baan Khlong Khoo. Giulio Di Sturco for The International Herald Tribune
BAAN KHLONG KHOO, Thailand - During 18 years living across the road from rice paddies, Malinee Khammon has never planted a single seedling. The daughter of farmers who is in her last year of high school, she has become adept at deflecting increasingly desperate pleas from her parents for help on the farm.
"It's hot and exhausting - I don't like it," Ms. Malinee said recently. "I'd rather stay indoors."
Backbreaking and muddy, rice farming in Thailand has long been the domain of the young and able-bodied who had the strength to stoop for hours in the searing sun, transplanting rows of rice plants, one seedling at a time.
But in Thailand today, rice farming is suddenly the preserve of the old as young people stay longer in school and as the vast metropolis of Bangkok lures the country's best and brightest to careers in air-conditioned workplaces.
"All they can do with their hands is use a cellphone," said Sudarat Khammon, who at 33 is the youngest farmer in Baan Khlong Khoo, a village of stilt houses outside the central Thai city of Phitsanulok.
Ms. Malinee says her dream is to become a teacher. Her friends at school want to be doctors, pharmacists and engineers.
Only 12 percent of Thai farmers today are younger than 25, down from 35 percent in 1985, according to government statistics, and their average age jumped to 42 in 2010 from 31 in 1985.
The move away from the rice paddies is not altogether surprising: Thailand and other rice-growing countries in Asia are following patterns of industrialization seen elsewhere.
But the transition is particularly charged for Thailand, where the growing of rice - notably the prized jasmine variety - is entwined with the country's identity, and its livelihood. Thailand has been the world's leading rice exporter since 1983, according to the United States Department of Agriculture, and rice exports amounted to more than $6 billion last year.
In the long term, as the older generation of farmers dies off, experts worry that Thailand may have trouble finding people to work its 13 million hectares of rice paddies.
One reason the young are turning from farming is universal: the belief that life in cities is easier or more exciting.
Also, the Thai farmer is seen as "poor, stupid and unhealthy," said Iam Thongdee, who specializes in studying the culture of rice growing. "Farmers say that if I'm reincarnated 10 times, I don't want another life as a farmer."
Television shows regularly portray farmers as the embodiment of uncouth. And farmers' skin, darkened by the sun, has become a marker of lower social status.
But there are also economic drivers. As a group, farmers are increasingly indebted. The declining number of rice farmers is a "pretty generalized phenomenon across Asia," said Robert Zeigler, director general of the International Rice Research Institute in the Philippines.
Binh Nguyen Ngoc, a professor of Asian cultures and linguistics at Hanoi National University, says young people in Vietnam, also a major rice exporter, are fleeing the farms. "Everyone says the farmer works the hardest but gets the least amount of money," he said.
Mr. Zeigler says he expects the declining number of rice farmers to cause "stresses" in the short term, but said labor shortages are also usually catalysts for the increased use of efficient machines, like those that transplant rice.
"We're having the beginnings of a pretty significant revolution in mechanization in Asia," he said. "I was stunned late last year to see them being used in India and places where you'd think there's an abundance of labor."
The transition in Thailand from a rural and feudal society to one of the foremost producers of computer hard drives and a hub for Japanese and American car companies has been abrupt.
That is causing a stark generational divide between parents who had no other choice but farming and their children who are exposed to a range of possibilities in high school and at universities.
Boonmee Khammon, 41, the father of Ms. Malinee, speaks bitterly about his two daughters' refusal to help him in the rice fields.
"They live in their own world," he said.
The New York Times