Trophy husbands don't need to be polished
I wouldn't describe him as wise beyond his years. Seeing that he only started wearing pants with zippers four years earlier, I took his occasional bon mots as seriously as those whistle blowing traffic wardens at the crosswalks.
But I couldn't shake it off when he said he wanted to grow up to be a "trophy husband".
Sure, he was grinning when he said it. And after watching him handle a knife on his steak, it would be a terrible thing for mankind if he ended up as a surgeon, yet my hopes for him are greater than just becoming a toy boy for a well-off woman.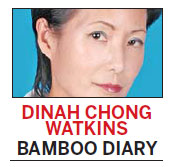 In the US, more women than men are now attending college. Fifty-five to 60 percent of undergraduates are female, even though the current body of males ages 18-24 is greater.
China is following that model with the ratio of female enrollment in universities increasing year-on-year at a higher percentage than males. Since the '60s, when women cut the proverbial apron strings, no longer are they considered an anomaly when they give out orders from the corner office.
And though the boardrooms of Fortune 500 companies are still generations away from mirroring the female-to-male college ratio, in the past decade, more and more women are out-earning their male partners and spouses.
The New York Times recently reported on the uptake of American men with college degrees entering what are perceived as "pink collar" careers.
Nurses, teachers, executive assistants - the recession and the growth of the service industry over manufacturing has more men seeking out jobs that are stable regardless of whether it's seen as "woman's work".
The "pink" pay scale comes at a much-reduced rate, though, increasing the chances that the female partner brings home the lion's share of the income.
While the notion that the breadwinner can wear either a tie or a skirt is acceptable in the West, in China, no man wants to be known as a Mr Margaret Thatcher, Mr Madonna or Mr Kim Kardashian - and with her record, the marriage would last almost as long as the trip down the aisle.
This pits another obstacle in the path of the single career woman here.
By the time she reaches mid- to upper management level, a woman is in her late 20s to early 30s.
She looks for men who have equal or more education, status and wealth.
Unfortunately, when they say that "all the good ones are married", they're not referring to his personality so much as his social and financial standing.
Not only is the pool of suitable men shrinking but also those who are her peers are usually looking at someone who is younger and, most importantly, not as successful.
The median age of the single career woman is rising every year. Up to two-thirds own their own apartment yet tend to live with their parents.
Disheartening as it is, many eventually give up the idea that they will ever marry.
Yet if only they would extend their parameters of what would make a good mate, logic rules that their chances of marrying increases fivefold.
If marriages traditionally follow that one partner is more equal than the other, why should it be limited to the man?
What is the solution to a life of spinsterhood then? The term alone is enough to make one want to get married.
Women, ditch the requirement for equal or his superior standing. Be OK with the reality that he doesn't come with a piece of property. Be happy that you've chosen each other for better or for worse.
Yes, ladies, as the cigarette ad once touted: "You've come a long way, baby".
Signs of your success are emerging everywhere - in the executive office, in government seats and, should you be well-adjusted, single and rich - drop me a line.
I know exactly where to find a good trophy husband.
Contact the writer at dinahchinadaily@gmail.com.