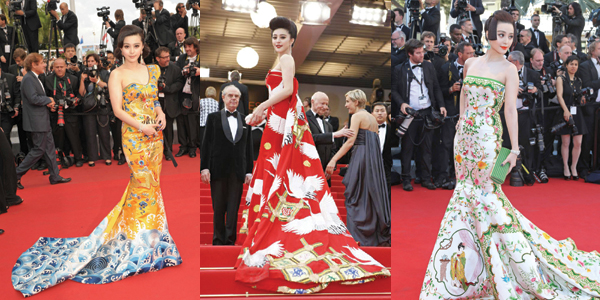 (From left to right) Fan Bingbing has made three consecutive appearances from 2010-12 on the red carpet of the Cannes Film Festival. China photo Press Pictures
The remedy for the humiliating exclusion from major cultural events for a spotlight-obsessed people like us is more freedom to create.
If I were the president of the Cannes Film Festival, I would bar Fan Bingbing from its premise. Then again, I'm a narrow-minded person, with the illusion that a film festival is about nothing but films.
The seductively beautiful Chinese Barbie doll has made three consecutive appearances on the red carpet of the French Riviera - the first time in a gown with the image of a dragon and the Chinese royal gold as the base color, the second time in a red gown with white cranes - the oriental motif for immortality - and this year, her gown looks like fragile Chinese porcelain.
I can totally understand if an ordinary Chinese has come to the conclusion that Cannes is about Chinese femmes fatale who kill with haute couture. Well, that's the impression I've gotten from browsing the Chinese media landscape.
Oh, I almost forgot to say Fan Bingbing has made many movies - none of which has entered Cannes competition, though. Not that Cannes necessarily picks the most award-worthy works from China.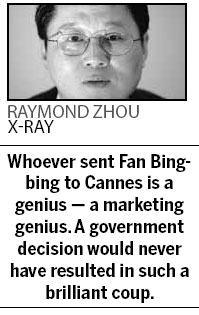 But you have to give it credit for awarding Farewell, My Concubine with the 1993 Golden Palm. The epic movie about a pair of Peking Opera performers is still widely considered the best Chinese film ever.
Call me an elitist, but I'm not exaggerating when I say many people do not know a great movie when they see one. They have to rely on a barometer. China's own Golden Rooster Award used to be one - until it took the route of the Huabiao Award, which uses the government's perspective in selecting high-minded preachy works.
The Academy Awards, universally known as the Oscar in China, became so big that even non-film-related enterprises would borrow the term.
If you see a self-claimed "Oscar" at an auto parts convention or a hotel named Oscar, you know how hard outsiders try to rub off the glamour of Tinseltown.
Some Chinese filmmakers got so upset they almost yelled: "The Oscar is the film award of just one country, like our Golden Rooster."
Well, yes and no.
Would the Golden Rooster grant the Best Picture awards to works 43 percent of which were directed by non-Chinese citizens? Or would it overwhelmingly nominate non-Chinese actresses? I'm afraid not.
Anyway, the weight of the Hollywood juggernaut has essentially pulverized anyone in its way, including our half-hearted attempt to crack the Best Foreign Language Film category. Since Hero in 2003, not a single Chinese film has gotten a nomination.
Whoever is submitting Chinese contenders keeps sending in films that are miles away from the typical winner.
The only explanation is that the submission is being used as kudos for marquee-name directors, who happen to release a big picture. (Never mind that the Best Foreign-Language Picture almost never favors a big-budget blockbuster.)
Cannes - and, to a lesser extent, Berlin and Venice - came as an afterthought or an alternative for glory-seeking Chinese.
Yet, true glory proves elusive. This year, not a single Chinese-language film got into the main competition. (Only a Lou Ye film got into the "Uncertain regard" sidebar category.)
To fill the void, Chinese actresses have descended on Cannes to maximize their media exposure.
As China is flushed with more cash than ever before, Chinese media - old and especially new - are sending a growing phalanx of reporters to cover the event.
It's natural that their spotlight falls on the few recognizable faces on the red carpet rather than the subtitled movies in the halls.
Fan says she's promoting Chinese culture, as her wardrobes are the epitome of China at its luxuriant best. As a matter of fact, she should be plugging the products for which she is a spokesperson and whose companies got her a pass to Cannes.
But I digress.
The box office is an objective yardstick with little room for interpretation. That leaves the foreign honor as the only buoy for our fragile self-confidence.
People seem to ignore the inconvenient fact that an award goes to one particular film, or even an aspect of a film, rather than to a national body of work. Chinese cinema could be going down the drain when a few jury-pleasing art-house titles flourish on the festival circuit.
Ideally, award winners should be the crown jewels that sit on a pyramid of solid movies.
Overall, we're extremely good at producing top-quality showcases that may be disconnected from the vast majority of the average. But soccer and films are two areas where even a decent showoff is hard to come by. Hence, the frustration.
Apart from the high-profile awards, certain movies also function as indicators of excellence, often coupled with boffo returns on box-office revenue.
Avatar is a case in point. It is the kind of film China would give an arm and a leg to have - I mean to present to the world.
Ever since James Cameron's 3D fantasy swept the Middle Kingdom, people have been using it as a benchmark. I've encountered many a dreamer, who pledged to make the Chinese Avatar - with a budget so miniscule it may not cover Cameron's travel expenses.
For the same reason, the real Cameron was featured so prominently at this year's Beijing International Film Festival that jokes went around that it should be renamed the James Cameron International Film Festival.
The Canadian filmmaker's name is so headline-grabbing that it has occasionally been abused.
When reports surfaced that he would direct an upcoming stage extravaganza, extolling the virtues of the late Chairman Mao Zedong, I was positive it was a canard. But nobody bothered to confirm it with the real McCoy.
Had someone debunked it, the person behind it would have said: We're contacting Mr Cameron or are in initial talks with him.
That way, he would have gotten the publicity without any responsibility or much cost. Such is the power of paradigm-setting personalities that even their afterglow can light the path to the glitter of wealth.
I'm sure Chinese businessmen are able to acquire the technology for the next Avatar if they want. It is the intangible and mysterious force called "creativity" that evades our grasp. If we put together in one place all the backlot-style "film and television production cities" across China, it would be much bigger and more magnificent than Hollywood.
But can we produce a hit on a par with any of the superhero movies that are hurled at us every summer? Not that it's a sign of "soft power", per se.
According to one report, China has built up to 1,000 such "cities", which attract film crews as well as tourists.
These de-facto theme parks cost a total of 50 billion yuan ($7.9 billion) to build and only 5 percent have yielded a profit, with 15 percent breaking even and the rest hemorrhaging cash. The mostly empty lots serve as a reminder of dashed dreams and eroded glory.
There is nothing wrong with dreaming big.
But not every dream can be fulfilled with money.
Ours is a nation of conformity and consensus building, but in art and culture, it's the maverick, who flaunts conventions and achieves greatness.
Therefore, a municipal government's plan to "spend 50 million yuan to nourish 1,400 Steve Jobs" was met with ridicule - and with good reason.
In a sense, you do not need any taxpayer money to groom the next Jobs. You just give him or her enough room to let fly the wings of imagination.
Whoever sent Fan Bingbing to Cannes is a genius - a marketing genius. A government decision would never have resulted in such a brilliant coup.
But then again, promotion gimmicks alone won't a movie industry make.
Contact the writer at raymondzhou@chinadaily.com.cn.