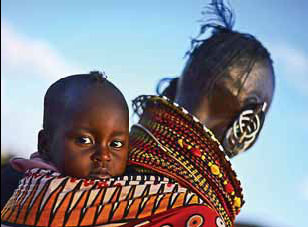 A woman from the Turkana tribe carries a baby on her back at the Lake Turkana Festival in Loiyangalani, Northern Kenya. Carl De Souza / Agence France-Presse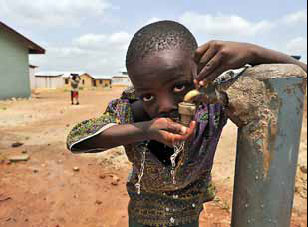 A boy drinks from a water tap in a 'new town' in Koidu, which suffered some of the worst ravages of Sierra Leone's war in the 1990s. Issouf Sanogo / Agence France-Presse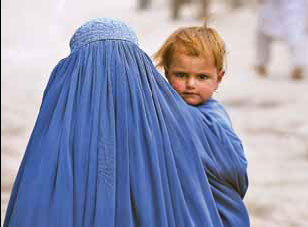 An Afghan woman hugs her child in the old section of Kabul. Their war-torn country still faces poverty, unemployment and lack of infrastructures. Aref Karimi / Agence France-Presse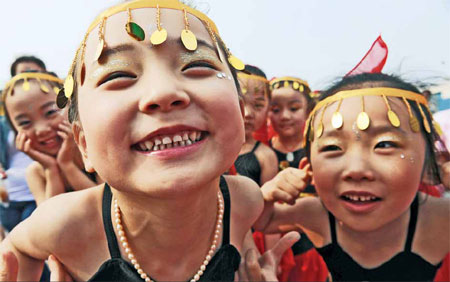 A group of kindergarten children cheers up in front of camera before their Children's Day performance in Bozhou, Anhui province. Zhang Yanlin / for China Daily
Appreciate the beautiful faces of children on this page as China Daily Sunday edition remembers them in a very special way.
China, like many other countries, celebrated International Children's Day on June 1, which was a holiday for school children. Various activities were held across the country ranging from toy fairs to drawing contests and camping. The occasion is celebrated on various days in different countries. It is observed not only as a day of celebrations, but also as a day devoted to promoting the welfare of children throughout the world. Even in the most desperate corners, people have shown astonishing determination and nurtured high aspirations for children.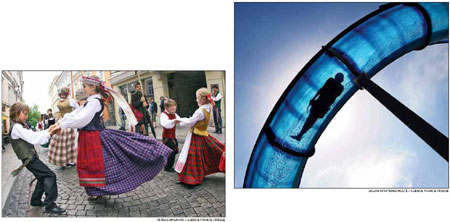 Above: A boy slides down in to a swimming pool as the sun shines in the northern German city of Hameln.
Left: Children dressed in traditional costumes perform a dance as part of a Folklore Festival in Oldtown Vilnius in Lithuania.