Animal attraction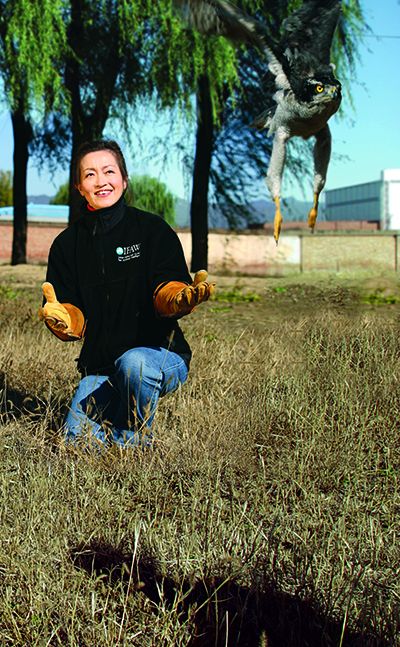 Gabriel wants the raptor rescue center "to provide a place for injured raptors to heal adequately as well as to let people know how to free raptors properly". Provided to China Daily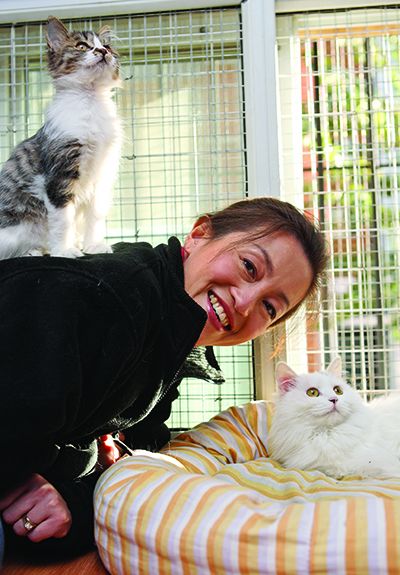 Activist gave up a promising TV career to help those who are unable to fend for themselves, Li Aoxue learns her story.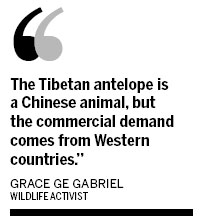 In 1996, when Grace Ge Gabriel was working as a news producer at a US TV station, she was invited to document nine Asiatic black bears rescued from bile extractors in Panyu, Guangdong province. The bears had been locked up in tiny cages for 13 years and had forgotten their natural habitat.
"They were afraid of the soil ... they were even afraid of putting their foot onto the grass," Gabriel says.
After seeing the scars on the animals, Gabriel could not hold back her tears. She decided to give up a promising career at the TV station and work instead with the organization responsible for rescuing the bears, the International Fund for Animal Welfare.
"I just wanted a full-time job to help animals. I wanted to let people know that animals have feelings; they can suffer pain, and it is our responsibility to make the world a better place for them," Gabriel says.
The 49-year-old Chinese American is now the fund's Asian regional director, working to improve the welfare of wild and domestic animals by reducing their commercial exploitation, protecting wildlife habitats and assisting animals in distress.
During her time at the IFAW, Gabriel set up the first raptor rescue center in China, initiated anti-poaching operations to protect the Tibetan antelope, and took part in the formulation of China's first Animal Welfare Law.
"I like the Asian profile. As I understand this environment much better, I feel I can make a bigger contribution to IFAW's work," says Gabriel, who was born in Zhe-jiang province. She did her undergraduate degree at Communication University of China in Beijing and majored in mass communications at the University of Utah.
Gabriel, who lives with her husband in Massachusetts, now spends one-third of her time in Asia, another third in the US and the rest traveling around the world.
Issues concerning the welfare of animals in China remain very close to her heart.
During Canadian Prime Minister Stephen Harper's visit to China earlier this year, Gabriel and her colleagues decided to send a briefing document to the authorities to detail the safety hazards of seal meat, which Canadian sellers were pushing to the Chinese market.
"Canada lost the market of selling seal products in the EU, US, Mexico and Russia after these countries banned importing seal products from Canada, " Gabriel says.
"Harper and the Canadian fishing ministry make a presumption that Chinese people eat everything, and China is going to be their largest market for their seal products, but we need to inform the Chinese government of the danger of having seal meat. There are heavy-metal contents in the seals' meat, which is not healthy for human beings," Gabriel says.
Closer to home, this year marked the 10th anniversary of the establishment of the Beijing Raptor Rescue Center.
In 2001, before the center was established, Gabriel recalls, six owls fell to their deaths because there was a lack of knowledge regarding the rescue of raptors.
Several Chinese celebrities were invited to a ceremony where the six owls were going to be released into the wild. But the birds were not fully recovered and fell while they were being freed.
That prompted her to set up a raptor rescue center, "to provide a place for injured raptors to heal adequately as well as an educational function to let people know how to free raptors properly," Gabriel says.
In 1998 Gabriel and the IFAW held what was considered the first campaign to protect the Tibetan antelope from commercial exploration by exploring alternatives to shahtoosh wool from the animals.
"Reducing the commercial demand is the key to saving these animals," she says. "The Tibetan antelope is a Chinese animal, but the commercial demand comes from Western countries."
Gabriel recently took part in the Interpol 23rd Wildlife Crime Working Group meeting, where she showed her latest findings concerning a list of animal products that she says were falsely claimed as being used in traditional Chinese medicine (TCM).
"Less than 1 percent of the list of animal contents is used in TCM, while the majority of them are actually bought for investment," Gabriel says.
"As a native of China, I have this sense of mission, that I should let people know that these are not used in TCM and that the animal contents of TCM can also be replaced by other elements," Gabriel says.
That sense of mission is just part of the drive that comes from doing what she loves.
"I think I am lucky," she says. "If a person's dream is the work she does, she can devote all of her time to her work and most of that time, it will not feel like work."