Learning on the go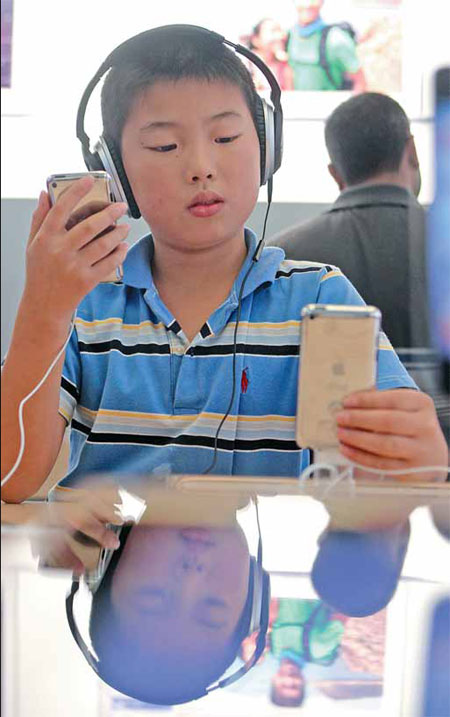 Young users are using their smartphones to surf and learn, as the devices become an educational tool.
Parents of a past generation used to yell "Get off the phone!" But these days, mum and dad are more likely to nod approvingly when their kids stay glued to a smartphone. Others may use their smartphones to study for a multiple-choice test for a driver's license. Eric Jou examines a new trend of learning.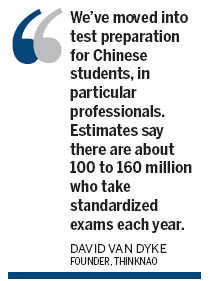 Sitting at his kitchen table, Victor Wong is staring into an iPhone. On the other side of the living room, his two sons are playing the iPad.
While many parents would probably frown at Wong allowing his children to play games on the iPad, in reality what his children are doing are getting lessons, learning through playing on a mobile device.
Wong is the chief product officer and co-founder of mobile e-learning platform Smartots and he sees mobile devices as the perfect tools for learning.
In fact, he believes in it so much that he and his partner Jesper Lodahl are working hard to build up their company in Beijing.
"We started Smartots because we believed that mobile devices are the best tools for learning," says Lodahl, the CEO of the company.
According to Wong, the idea came when the two men realized how strong a tool the iPhone and iPad were in the hands of their children.
"Both Jesper and I have kids who love to play on the iPhone and iPad," says Wong.
"We saw the potential for them to be educational devices, but at the same time, we needed to understand what our kids were actually learning."
Smartots is like the gaming platform OpenFeint. Wong and Lodahl do not necessarily develop their own apps but instead, apps are connected through them. Through this connection, parents and basic users can see how the "player" has progressed in each app.
Wong and Lodahl focus primarily on younger children, and offer apps that support a variety of subjects such as math, science and English.
Working hand in hand with educators and parents, Lodahl says that Smartots can help parents track their children's growth, and with the help of educators, the parents can plot out other apps that can further their child's education.
While Smartots concentrates on kids and their parents, David van Dyke and his team at ThinkNao are looking at adults wanting to further their knowledge.
Van Dyke founded ThinkNao after seeing how mobile devices could be used for test preparation especially those with lots of questions such as the Chinese driver's license examination.
Having failed the exam his first time, Van Dyke saw an opportunity in helping foreigners prepare for the exam.
"Foreigners have to get a 90 percent score or higher to get their license," says Van Dyke.
"I failed my first time because there were a bunch of questions related to points; how many points do you lose if you drink and drive, how many points do you lose if you hit a pedestrian, they're all different."
ThinkNao's apps are like practice exams. It will register the users' proficiency and identify their weaknesses.
The system will then resurface the types of questions which the users are weak at, from the more than 1,300 questions in its archives.
This way, the user can learn and improve on their weakest questions before going for the real test.
ThinkNao originally only had 14 apps, its most famous being the test prep app for drivers. Now it offers multiple test prep apps from government certification tests to accounting certifications.
Van Dyke says that one of the reasons educational apps do well is because, "unlike games", educational apps do not require real emotional involvement to get customers.
Instead it is the allure of learning something new or furthering a career that drives customers to buy education apps.
Van Dyke calls this "investing in themselves".
"We've moved into test preparation for Chinese students, in particular professionals. Estimates say there are about 100 to 160 million who take standardized exams in China each year.
"If you look at an exam like the civil service exam which has a pass rate of 3 percent, there are a lot of people who are taking the test again each year."
While Smartots has created a platform for education apps made by others, ThinkNao is hosting its own test-prep apps and plans to create more for any tests customers might want to take.
Ultimately for Van Dyke, the goal is to be the "de facto leader in test preparation" so when people think of mobile test preps, they think of ThinkNao.
"You can study any time, any where you want with mobile," Van Dyke says.