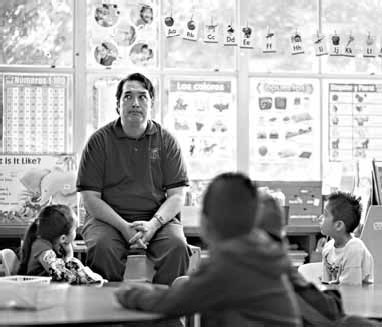 Adrian Qrtiz teaches kindergarden in Houston. Michael Stravato for The New York Times
HOUSTON - Over the last decade, American men of all backgrounds have begun flocking to fields such as teaching, nursing and waiting tables that have long been the province of women.
"The way I look at it is that anything, basically, that a woman can do, a guy can do," said Miguel Alquicira, who graduated from high school when construction and manufacturing jobs were scarce and became a dental assistant.
The trend began well before the crash, and appears to be driven by a variety of factors, including financial concerns, quality-of-life issues and a gradual erosion of gender stereotypes.
In interviews, about two dozen men played down the economic considerations, saying that the stigma associated with choosing such jobs had faded, and that the jobs were appealing not just because they offered stable employment, but because they were more satisfying.
"I.T. is just killing viruses and clearing paper jams all day," said Scott Kearney, 43, who tried information technology and other fields before becoming a nurse in the pediatric intensive care unit at Children's Memorial Hermann Hospital in Houston.
An analysis of United States census data by The New York Times shows that from 2000 to 2010, occupations that are more than 70 percent female accounted for almost a third of all job growth for men, double the share of the previous decade.
That does not mean that men are displacing women - those same jobs accounted for almost two-thirds of women's job growth. But in Texas, for example, the number of men who are registered nurses nearly doubled in that time period.
The shift includes low-wage jobs as well. Nationally, two-thirds more men were bank tellers, almost twice as many were receptionists and two-thirds more were waiting tables in 2010 than a decade earlier.
Even more striking is the type of men who are making the shift. From 1970 to 1990, according to a study by Mary Gatta, senior scholar at Wider Opportunities for Women, an organization based in Washington, D.C., and Patricia A. Roos, a sociologist at Rutgers University in New Jersey, men who took so-called pink-collar jobs tended to be foreign-born, non-English speakers with low education levels.
Now, though, the trend has spread among men of nearly all races and ages, more than a third of whom have a college degree. In fact, the shift is most pronounced among young, white, college-educated men like Charles Reed, a sixth-grade math teacher at Patrick Henry Middle School in Houston.
Mr. Reed, 25, intended to go to law school after a two-year stint with Teach for America, a national teacher corps of recent college graduates who spend two years helping under-resourced urban and rural public schools. But Mr. Reed fell in love with teaching. He says the recession had little to do with it, though he believes that, by limiting prospects for new law school graduates, it made his father, a lawyer, more accepting.
To the extent that the shift to "women's work" has been accelerated by recession, the change may reverse when the economy recovers. "Are boys today saying, 'I want to grow up and be a nurse?'" asked Heather Boushey, senior economist at the Center for American Progress. "Or are they saying, 'I want a job that's stable and recession-proof?'"
Daniel Wilden, a 26-year-old Army veteran and nursing student, said he had gained respect for nursing when he saw a female medic use a Leatherman tool to save the life of his comrade. "She was a beast," he said admiringly.
More than a few men said their new jobs were far harder than they imagined. But these men can expect success. Men earn more than women even in female-dominated jobs. And white men in particular who enter those fields easily move up to supervisory positions, a phenomenon known as the glass escalator, said Adia Harvey Wingfield, a sociologist at Georgia State University.
"I hated my job every single day of my life," said John Cook, 55, who got a modest inheritance that let him drop a $150,000-a-year database consultant's job to enter nursing school.
His starting salary will be two thirds lower, but database consulting does not typically earn hugs like the one Mr. Cook received from a girl after he took care of her premature baby sister. "It's like, people get paid for doing this kind of stuff?" Mr. Cook said, tears coming to his eyes as he recounted the episode.
Several men cited the same reasons for seeking out pink-collar work that have drawn women to such careers: less stress and more time at home. At John G. Osborne Elementary School, Adrian Ortiz, 42, joked that he was one of the few Mexicans who made more in his native country, where he was a hard-working lawyer, than he did in the United States as a kindergarten teacher in a bilingual classroom. "Now," he said, "my priorities are family, 100 percent."
Betsey Stevenson, a labor economist at the University of Pennsylvania, said she was not surprised that changing gender roles at home, where studies show men are shouldering more of the domestic burden, are showing up in career choices. "We tend to study these patterns of what's going on in the family and what's going on in the workplace as separate, but they're very much intertwined," she said. "So as attitudes in the family change, attitudes toward the workplace have changed."
In a classroom at Houston Community College, Dexter Rodriguez, 35, said his job in tech support had not been threatened by the tough economy. Nonetheless, he said, his family downsized the house, traded the new cars for used ones and began to live off savings, all so Mr. Rodriguez could train for a career he regarded as more exciting.
"I put myself into the recession," he said, "because I wanted to go to nursing school."