Innovation station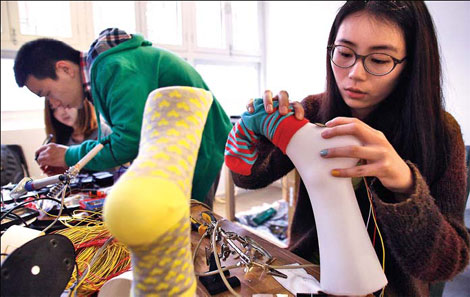 Art Hack Weekend participants work on their creations.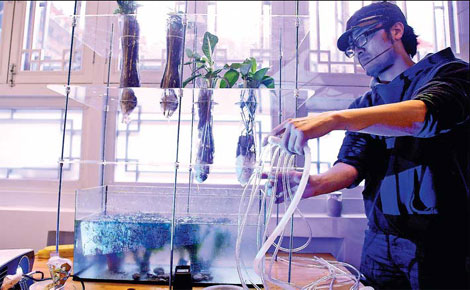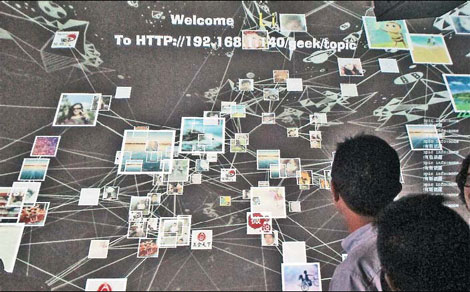 The Cloud draws visitors. Photos by Zhang Wei and Wang Kaihao / China Daily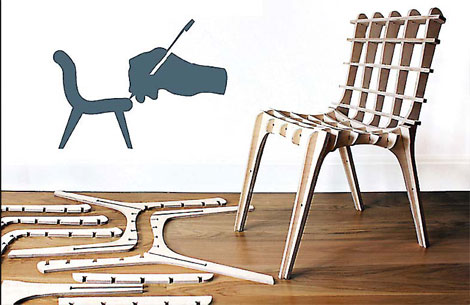 A poster for Sketch Chair, a computer program which allows anybody to take part in the process of designing and building their own digitally fabricated chairs, by New Zealand designer Greg Saul, is displayed at Maker Carnival. Provided to China Daily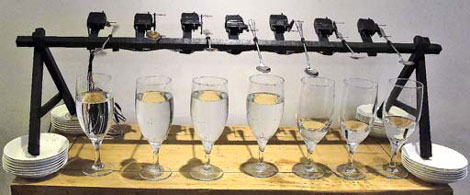 The Beginner was completed in just two days.
Related: 'Hacker' collective dreams of machines - then builds them
Beijing's Art Hack Weekend brings together people from various sectors to produce impromptu works in teams. Wang Kaihao reports in Beijing.
About 40 youths busily scribble blueprints, write computer code and fiddle with various gizmos and carpenter's tools in the 180-square-meter Beijing courtyard known as Qinggongguan, or Youth Mansion. When asked, "What are you making?" They all give the same answer: "You'll see." These artists, programmers and technicians gathered at the Youth Mansion on the evening of April 20 for "Art Hack Weekend".
After a barbecue, participants - most of whom don't know each other - form teams and must complete their projects within 48 hours.
Documentary director and VJ Xiang Yandong finished testing the system just before the 5 pm Sunday deadline.
"Finally! We did it!" Xiang exclaims, when it's done.
"It's interesting but too exhausting."
His team's project is a website in which entering a key word causes futuristic panoramas to flash, while silhouettes dance to strange sounds against an animated background. They call it The Cloud.
"The silhouettes are micro blog users who share your interests," he says.
"And the sounds are based on your IP address' numbers. People heavily rely on online social networks. We want to portray these interpersonal relationships in a surprising and untraditional way."
Art Hack Weekend is part of the Creators Project, which was co-initiated by Intel and Vice Media in 2010. It claims to be "a global network dedicated to the celebration of creativity, culture and technology". Beijing became the first place outside the United States to organize the Weekend after it was staged in New York City in August 2011 and San Francisco this March.
It's not easy for Xiang's group to finish the entire job within two days. They stayed up all night and continuously tweaked their ideas.
"We couldn't even remember what our original idea was because our minds almost exploded," programmer Zhang Wentao jokes.
"We talked and argued."
Some teams had easier runs.
Tsinghua University art major Tian Li decided to work on a project related to music before arriving at the event. His team created The Beginner - a mechanical device that automatically plays Beethoven's Ode to Joy using spoons that clink seven glasses containing different amounts of water to create different notes.
"I confess it's not as beautiful as when an orchestra plays," Tian says.
"But that's what we hope to convey - that technical tools are elementary when compared with art."
Tian says the purpose of the multimedia arts studio, called The Parachutes, that he started at his school, often deals with these questions.
"We want to use technology to bring more dreams about art back down to earth," Tian says.
A six-juror panel judges Art Hack Weekend's works and selects pieces to further develop as exhibits for the Ullens Center for Contemporary Arts in Beijing's 798 Art Zone.
"It's unfair to judge these works by traditional criteria," says judge Tao Ling, a Berlin-based multimedia artist and head of the German-Chinese Culture Society.
"We want to give them more freedom to express themselves. I don't expect well-scrutinized works within such a short time. But I need clear explanations of their ideas, which is the gist of creation."
The judges' favorite is the piece Music I Can Wear.
A computer reads the colors of T-shirts to play different melodies.
"We seek to find a new way to record colorful memories," says fashion designer Hong Dong, who had never before participated in cross-genre creation.
"We wanted to put music scores on the T-shirts for the cameras to read, but there wasn't enough computer space. Our current version is still a little too simple, anyway."
Hong was skeptical about the team's chances and needed it confirmed three times after being told they had won.
Tao says: "The communication among creators in various fields is like biological evolution. Different ideas bump against one another, and new ideas are born at any time - just like mutation and cell division. But only the fittest survive."
One group picked up an abandoned electrical mahjong table from a nearby hutong and planned to turn it into a LED screen but found it wasn't possible to do within 48 hours.
But most agree the results aren't what's important.
"I just come here to have fun," says Lei Lei, a cartoonist who designs animations in Xiang's group. "I've met many people who share my interests in a short time, and that will benefit my future creations."
His group celebrated the event's end by gathering at a snack stand.
Vice Media's global general manager Hosi Simon rushed to the courtyard immediately after landing in Beijing. He believes Beijing's event is unique.
"It's much fresher here," he says.
"While Europeans and Americans have taken the culture of creators for granted, Chinese creators' self-expression has just started.
"It's fantastic to see Chinese artists are so close to audiences. This time, we held it in such a small yard, but I think tens of thousands of Chinese youths will join in the coming years."
Contact the writer at wangkaihao@chinadaily.com.cn.